Decent Visuals & Presentation
Through the 16 kingdoms of Ransei that you'll be conquering, there are some parts in the game where it shines when it comes to the visual department. While Conquest is a title for the Nintendo DS and not for the 3DS, to its own merit, the game is designed well. Pokemon sprites are drawn accordingly with their own cry when they attack and for the first time, they jump in the battlefield. For story-telling, you will see a character portrait of the characters talking and since this is also a Tecmo game, you will see some inspired Dynasty Warriors outfits too.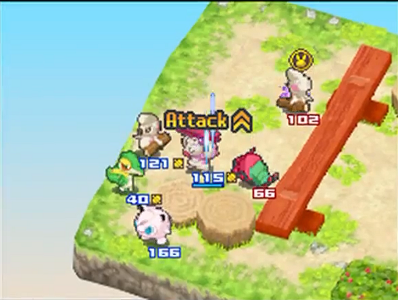 NOT
Not the Traditional Pokemon Game
While Conquest has the RPG elements that is somewhat similar to the mainstream titles, it doesn't mean it will have everything from the main games. If you are expecting Pokemon Conquest to have the traditional catching of Pokemon and leveling them up, you will not find them here. Pokemon Conquest is a brand new title that will have new features that I believe is better than the past titles; the Pokemon evolves in a different method rather than leveling, and instead of setting out in an adventure to seek out Pokemon, you will seek out trainers instead. It may have a unique take to the franchise, but it will most likely be a disappointing game to majority of the fans who are looking for the same kind of treatment.
Pokemon Attacks is Limited to One
One of the things that is new in Conquest that may disappoint fans is the lack of attacks for each Pokemon. Instead of having the traditional four attacks, each of the Pokemon that you use will be limited to one. There's no way to teach a Pokemon a move or an attack. Since Eevee started with a Quick Attack, that will be the move that it will be using throughout the entire game. However, there are special attacks that each Pokemon can use, but they all will depend if certain conditions in battle are met.
VERDICT
In the end, Pokemon Conquest doesn't follow the traditional mediocrity of spin-off titles when it comes to the Pokemon franchise. Truth be told, the game is a good one and will be enjoyed by Pokemon fans who are looking for something unique and are a fan of SRPG games. While it may not have the traditional gameplay that fans are expecting, the new things that Conquest offers will be good enough for anyone to enjoy. That is, as long you're patient when it comes to long battles.
[Editor's Note: Pokemon Conquest was reviewed on the Nintendo DS platform. The game was provided to us by the publisher for review purposes.]
Pokemon Conquest Review

,