"The way I see it… there's two types of people: those who spend their lives trying to build a future and those who spend their lives trying to rebuild the past. For too long I'd been stuck in between, hidden in the dark." Following 8 years after the events of the second game, Max Payne, the rough-around-the-edges ex-DEA/NYPD detective, is still dealing with the trauma that first latched on to him after the brutal murder of his wife and child, primarily with the aid of whiskey and painkillers. Due to years of heavy drinking and drug abuse, Max's outward appearance has undergone noticeable changes, effectively mirroring his fractured state of mind as he continues to suffer both physically and mentally. He'll be forced to fight his inner demons as well as the fully armed thugs standing in his way, but not in the environment he's used to. The location may have changed from the dark and dreary streets of New York City to the better-lit, dirty favelas of Sao Paulo, Brazil, but the problems our drunken hero has to confront are the same as ever. While Remedy Entertainment may no longer be in the picture, Rockstar hopes to provide the franchise's expected level of quality noir storytelling in Max Payne's newest life chapter.
Can Max Payne 3 rise to the top again or has this old dog already showed all of his tricks?
HOT
The Father of Bullet Time Returns
Talk to anyone who played Max Payne a decade ago and chances are that, aside from the stylized storytelling, bullet time was the game's standout feature. Allowing players to dive through the air in slow motion and deliver lead-based justice was something everyone was dying to experience given the popularity of The Matrix at the time and, thanks to Remedy, everyone was able to do just that. Since the series' took a long sabbatical, many different developers took a shot at the bullet time ability, but no one was ever able to fully replicate the experience found in the Max's gritty tale. It only seems fitting that Max returns to dust off his throne and reclaim it in the third entry.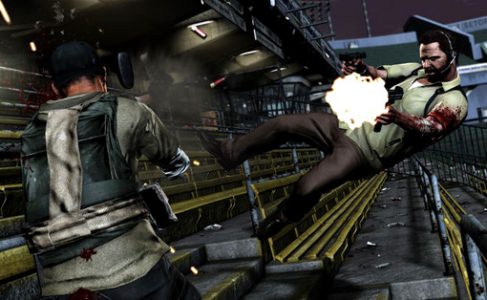 Bullet time has never been more refined and entertaining to mess around with. Simultaneously leaping through the air, firing bullets and avoiding incoming projectiles is better than ever before. Our protagonist may be old, but that isn't stopping him from dealing death in the midst of his gravity-defying acrobatics. However, Max Payne 3 is much more wary of objects in the environment. If Max dives into a wall, he will crumble and scramble back to his feet. This forces the player to really take in their surroundings before deciding to risk a slow motion dive out of cover. Oh, that's right, there's a cover system. Taking cover is one of Max's newest moves and it sure comes in handy since bullets will be peppering the ex-cop's position 99% of the time. One of the most pleasing aspects comes from Rockstar's decision to render each bullet, both from the enemies and Max himself. Shortly after the game starts, the air fills with 9mm rounds and buckshot that are exchanged between the two aforementioned parties. Bodies react realistically to every single impacting bullet thanks to the heavily-updated Euphoria engine. Enemies stumble around, try to pick themselves up off the ground and are, ultimately, left slumped on the floor perforated by various caliber projectiles. Rockstar has ensured that the aftermath of each gripping gun fight contains carnage on a whole new level.
Exemplary Presentation
Rockstar may be taking Max Payne in a slightly new direction, but they haven't forgotten the game's roots. Cutscenes are portrayed with moving panels, a homage to the graphic-novel aesthetic that helped the first two titles stand out amongst the other third-person shooters last generation. Even though the environments are basked in sunlight, they still provide the gritty vibe that Max Payne is notorious for. It's not all about keeping in line with the old, however. As Max ventures through his latest unrelenting journey, the camera is regularly undergoing blur effects as well as others, which are not only interesting pieces of visual flair, but they expertly reflect Max Payne's constant drug and alcohol-induced haze. Speaking of drugs, painkillers are back as in-game "health packs". You won't find any regenerating health here. The pain meter will fill on the bottom right-side of the screen and requires the constant use of pills to bring it down. It's just one more nostalgic feature that can be enjoyed both visually and in terms of gameplay.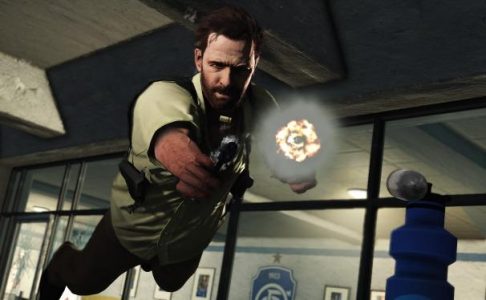 Overall, the presentation doesn't disappoint on any level. Besides the special effects during cutscenes and slow motion instances, the game looks phenomenal. Character models and faces, especially Max's, are capable of conveying various emotions. The expressions present on our action hero's face tell a story of pain and uncertainty which go well hand-in-hand with Payne's cynical outlook on most situations, and life in general. Looking at the enemies, their faces squint while being penetrated by bullets and then shift to a relaxed, and lifeless, state once they've hit the ground. You have plenty of chances to see this brutality up close thanks to the cinematic camera that takes center stage when the last enemy in a group is eliminated. Players can even slow down the animation by pressing a single button! Players will revel (in somewhat of a sadistic manner) in the glorious and gory ballet of death that takes place during these scenes.
Engaging Story and Characters
Max Payne is a tortured soul, barely able to force himself out of bed in the morning without the aid of booze. Coupled with his cynicism and pessimistic remarks regarding situations (although odds never stop him from rushing into firefights), Max is an easy character to care about, although that may stem from nostalgia for some players. Either way, watching him in action provokes thought because it's extremely difficult to tell whether he's running and gunning for redemption or the sweet embrace of death. Take these characteristics and toss them into Brazil where Max has found himself as a bodyguard for a rich, established family. Things suddenly take a turn for the worse when his employer's wife is kidnapped and then hit rock bottom as bodies, including friendly, start dropping at the player's feet. In between the journey to save the woman, Max has flashbacks of his life in Hoboken, New Jersey shortly before leaving with Raul Passos, his partner, to Sao Paulo. These portions of the game are a real treat for long-time fans as they will be given the chance to re-immerse themselves in recognizable environments from over a decade ago. One graveyard level in particular comes to mind and met all expectations that were set as I regained control of the trench coat-wearing Max Payne with a head full of hair.
Max Payne 3 Review

,