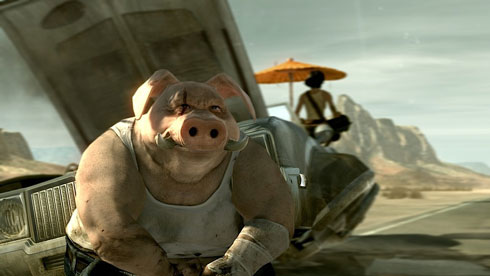 When the first Beyond Good & Evil was released, it was met with great reception. Many people praised the game, and although it had it's quirks it was really good. However, it did not sell very well and fans of the game wondered if a sequel would be developed. A teaser trailer was released back in 2008, but since then not much has been heard about the game.
Michael Ancel, the developer behind so many great games including the first Beyond Good & Evil has confirmed that the game is in development. In an interview at the Toulouse Game Show in France, Ancel spoke about many things including Rayman Orgins, his thoughts on DRM, and most importantly  Beyond Good & Evil 2.
He did not provide any specifics on when the game would be released in fact when he was asked that question he responded with.
"We won't make promises that we can't keep. We are in an active creation stage and at this moment we are only focusing on the game and making it the best game that we can. That decision would just distracts us from that objective. I can say that it's a very ambitious game and we need some tech to achieve that ambition."
He was also asked if the game had taken any inspiration from DICE's Mirror's Edge, as a previous a previous demonstration looked to have borrowed some of its mechanics.
"No, not at all. We had this concept even before Mirror's Edge launched. And we have a different approach to the first person perspective that Mirror's Edge has. Prince of Persia and Assassin's Creed are closer to what we have in mind with the control of the character in a third person perspective."
He then goes on to say "We use a very dynamic camera that shakes a lot during the action to add life to the camera giving the impression of an action news cover team following Jade. Maybe that could be similar to Mirro's Edge but the game itself is very different."
Overall this is really exciting news, and what I can grab from his quotes it looks like the game will not be releasing until the next generation of consoles are out. What do you guys think let us know. Are you anticipating the release of Beyond Good & Evil 2?
Source: NeoGAF