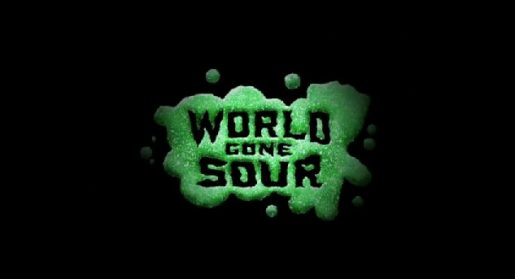 In World Gone Sour, you take on the role of misfortunate Sour Patch Kids. Their goal is to get inside the belly of humans. There isn't really much to it, but it does work well in the end. World Gone Sour is in many ways a glorified advertisement, but is also a surprisingly fun game.
Let's see what's HOT and NOT in our review of World Gone Sour.
HOT
Enjoyable
While the game isn't incredibly lengthy, it still provides a fair amount of time to have fun in its casual environment. The game follows suit of the "first sour, then sweet" motto in multiple ways. One of the most obvious and funny aspects is having fellow Sour Patch Kids to follow and help you while strolling throughout your travels. Though they have done nothing negative towards you, they often end up getting sacrificed in various ways regardless. From the quirky boss fights scattered throughout levels to bashing in various enemies, the game packs a punch in the "fun" category.
Graphics
World Gone Sour surely isn't introducing groundbreaking graphics to the downloadable game platform, but it also hasn't taken a step back. Everything in the game looks detailed to the point where it all feels believable enough. From areas such as freezers to food joints to movie theaters, all have that sort of eerie feeling that will accompany you. The game even has a good attention to detail with small things like gum on the floors that your Sour Patch Kid can become stuck in, which is somewhat refreshing amongst downloadable games. Sure, there aren't sugar specs falling from your Sour Patch Kid whenever you jump or get hit, but the visuals overall aren't bad.
Surprisingly Humorous
As you play throughout the game, there is a commentator of sorts. Though his main purpose seems to be guiding you through levels and teaching you new techniques, he seems to stray from this role at times. His comments may be very simple, or not so much. Though they aren't usually all that appropriate, they are still quite funny. Win if you can, lose if you must, but always cheat.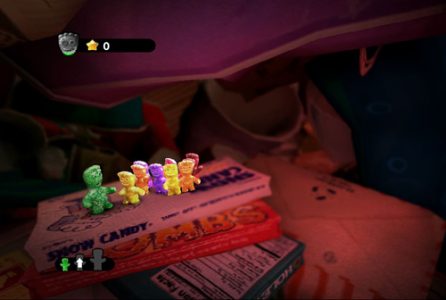 Sound
There isn't a whole lot to say about the sound in the game as it usually isn't a noticeable trait, but that doesn't mean that it's bad. While it is often not thought about in this game, the music, sound effects and overall audio are pretty well done. For those who enjoy the rap genre, the game even includes a brief sampled beat of Method Man's aptly named World Gone Sour song. Now, transversely for those who do not, the track only plays during one rather short level in the game.
NOT
Loading Times
These aren't totally unbearable, but they are simply longer than the average loading screen time, in my experience. The great thing about this not is that load times aren't all that common throughout World Gone Sour. Unless I missed something, load screens were only at the beginning or ending of levels.
Game Mechanics/Controls
The controls in the game are very easy to grasp and pull off, though at times don't work as you'd hope. Performing actions such as more intricate jumping can require more spot on timing rather than just tapping jump to wall jump.  This is not a significant NOT for this game, but I thought it should still be noted as such.
Verdict
World Gone Sour is a uniquely enjoyable platformer that is capable of entertaining just about anyone. Its added two-player couch co-op adds to the fun of the game by giving another player the opportunity to jump into this World Gone Sour, which is great. For the time that the game does run, it is quite fun, but that doesn't mean it is too lengthy.  Even though I think that the game should have followed in the footsteps of Doritos Crash Course by being free, I still had a good time playing it. While World Gone Sour has its usually minor flaws, they are pretty well overshadowed by the the high level of entertainment contained in the game. For those willing to shell out the fairly low price of 400 MSP or $5, I would recommend the game. Again, be warned that the game is mainly just a big advertisement for Sour Patch Kids rolled into a downloadable game, but if you're not too concerned, then go for it.
[Editor's Note: World Gone Sour was reviewed on the Xbox 360 platform. The game was provided to us by the publisher for review purposes.]
World Gone Sour Review

,