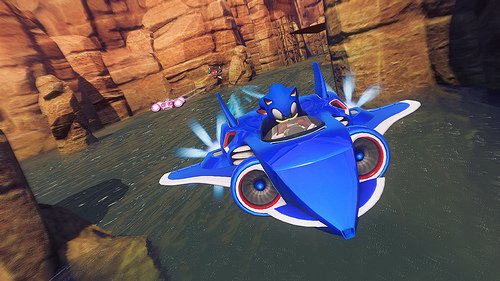 This morning, Sega has officially revealed their next title. The game will be called Sonic & All-Stars Racing Transformed, and the name vaguely implies what the game will be about. In Sega's newest title, you will be racing across various fronts like the normal track, the water, and even the air. While you are racing, your vehicles can transform to conform to whatever condition may be ahead.
In the new game, each character possesses unique vehicles of their own to take on the varying terrain. The game will also see new character additions such as Vyse of Skies from Arcadia Gilius and Thunderhead from the classic Golden Axe. Not only are there new characters, but new tracks with unique dynamic environments. "When the road falls away beneath you on Super Monkey Ball's Temple Trouble track your car transforms into a boat and speeds down the rivers and rapids".
Sonic & All-Stars Racing Transformed is currently set to release in late 2012 for the Playstation 3, Playstation Vita, Xbox 360, Nintendo 3DS, as well as PC digital download. Check out the slideshow below for a preview of the game to wet your appetite, and head over to the Sega Blog for a chance to have your artwork featured in the game when it releases.
Source: Sega Blog