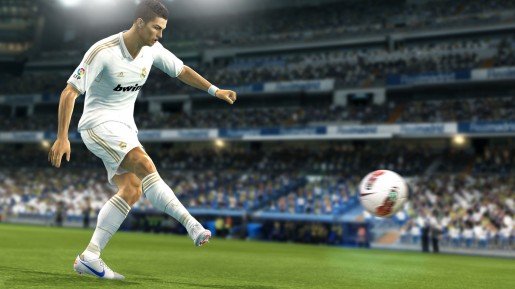 Konami has today announced the next instalment in its Pro Evolution Soccer franchise, PES 2013, heralding it as a "Whole new ball game"
"PES 2013 sees the series returning to its roots, with the emphasis on the individual skills of the world's best players, and giving the player the total freedom to play any style of ball, which includes for the first time full control over shots. This follows further consultation with both football and PES fans alike, and the result is the most faithful recreation of modern day football to date, with players modelled to match the running motions, abilities and playing styles, and the flicks and turns of their real-life counterparts"  a Konami statement read.
Officially endorsed by its cover star and currently the world's best player, Cristiano Ronaldo, PES 2013 has taken a leaf out of the Portuguese' book by implementing three key elements in this year's edition which include PES FullControl, Player ID and ProActive AI.
PES FullControl: Players will be given complete freedom over ball control and receive the ball in subtle new ways from taps and feints by putting more emphasis on the first touch. Using the shoulder buttons, the player can now kill the speed of a well hit pass bringing it instantly under control or use that momentum to pass the defender. This year will also be the first time ever that fully manual passing and shooting will be available, allowing players to determine the height and power of each offering an unrivalled variety in ways to build up play and apply the perfect finish.
Player ID: This new feature will focus on the individual elements and movements that each player boasts (much like in recent FIFA entries). The very best players in PES 2013 will be instantly recognisable due to their detailed likeness, signature attributes, skills, tricks and play styles that will set them apart from their average counterparts. Goalkeepers are not forgotten either as new animations, variety of saves and reactions have been added to ensure the game's keepers are in line with the efforts of real shot stoppers.
ProActive AI: Unites the control and realism, with players that will respond and find space as befits those at the top of their game. The development team worked closely with fan feedback to ensure that any illogical elements to the way players move and ran were eradicated. The new 'ProActive AI' system ensures a more realistic game experience.
PES 2013 is out this autumn on PlayStation 3, Xbox 360, Windows PC, PlayStation 2, PSP, Nintendo 3DS, and Wii