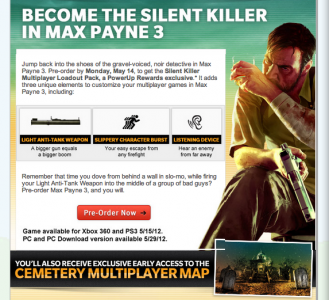 Rockstar hasn't been too forthcoming about the character abilities available in the multiplayer section. We've seen glimpses of these abilities, known as Bursts, but they are being kept mostly out of sight for now.
That is, before GameStop emailed PowerUp Rewards members with details regarding the Silent Killer Multiplayer Loadout Pack. Contained in GameStop's exclusive DLC you will find a light anti-tank weapon, a listening device and the slippery character burst. That last one is one of those special abilities that Rockstar isn't too talkative about at the moment. The ability's description is as follows: "Your easy escape from any firefight".
Judging from the icon above the Burst, it looks like it will increase the speed of the player and may even help counter the slow motion effects brought on by an enemy's use of bullet time. Hopefully Rockstar starts opening up soon about this aspect of their already promising multiplayer offering.