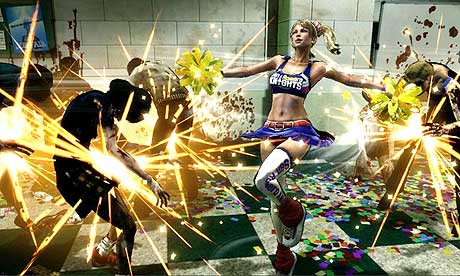 Warner Bros. has announced the diverse soundtrack that is featured in Lollipop Chainsaw.
On top of the licensed soundtrack the game has, a behind the scenes video has been released Lollipop Chainsaw, artist Jimmy Urine (of Mindless Self Indulgence) and Grasshopper Manufacture Sound Director Akira Yamaoka talk about the influences they had on the game and the choices they made with the score. You can bet a game about killing zombies won't have songs by One Direction or Justin Beiber that's for sure!
Lollipop Chainsaw is out June 12th in North America and June 15th in Europe for the PS3 and Xbox 360.
Here's the full tracklist:
· Lollipop – The Chordettes
· Pac Man Fever – Buckner & Garcia
· Rock 'N' Roll (Will Take You To The Mountain) – Skrillex
· The Way of the Fist – Five Finger Death Punch
· Stop Reading, Start Doing Pushups – Destroy Rebuild Until God Comes
· Riot Rhythm – Sleigh Bells
· Turtle Crazy – Toy Dolls
· 1,000 Cigarettes – MSTRKRFT
· Heroes Of Our Time – Dragonforce
· Nemesis – Arch Enemy
· Needled 24/7 – Children of Bodom
· Mickey – Toni Basil
· You Spin Me Round (Like A Record) – Dead or Alive
· Empire State Human – The Human League
· Cherry Bomb – Joan Jett and the Blackhearts
· Speed – Atari Teenage Riot
Check out the video below: