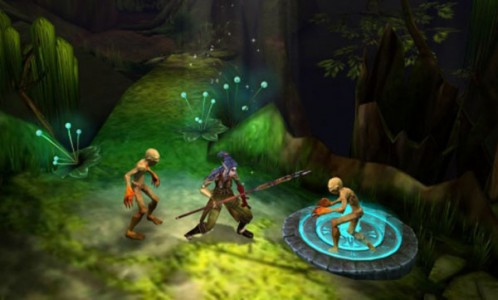 Back at CES, one of the games that I really enjoyed playing was Square Enix's Heroes of Ruin for the Nintendo 3DS. At that time, Square Enix couldn't give me a definite release date until they announce it, which happened today.
One of the highly anticipated action RPGs to hit the Nintendo 3DS, finally has a release date. Heroes of Ruin is scheduled for release on June 26th. If you're wondering what my experience were when I played this game, check out our CES hands-on impression of the game.
Here's a brief information about Heroes of Ruin via the official website:
War raged for over a hundred years until strong, powerful Lords emerged from the fighting to bring a fragile peace to the land. This peace is threatened when one of the Lords, Ataraxis, ruler of the city of Nexus, is taken ill by a deadly curse. A call is sent out, promising rewards beyond measure for anyone who finds a cure.

Four mercenaries, each with their own strengths, weaknesses and motivations answer the call. One uses forbidden spells to rain death on her foes, one has guns and bombs to blast his way through, another has a mighty sword capable of slicing through entire packs of enemies, and one other gains strength from savagely tearing through anything that stands in his way with brutal, bladed fists.