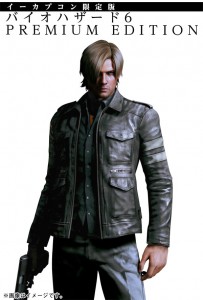 Collector's Editions in the gaming industry are nothing new. Your jaws will drop when you hear that Capcom has released a "Premium Edition" for Resident Evil 6 that costs more than $1000!
To be exact, the Premium Edition bundle costs 105,000 yen which translates to $1293 US Dollars.
Here's what you will receive:
-Copy of Resident Evil 6
-A real authentic Leon leather jacket (comes in S, M, L and XL sizes)
-Four different Resident Evil 6 branded tablet covers (a Chris version, a Leon version, a Jake version, and a Secret version)
The Premium Edition of Resident Evil 6 is available on Capcom's online store e-Capcom right now.