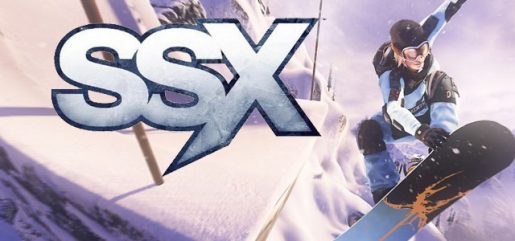 Twelve years ago, the extreme snowboarding game SSX debuted under EA Sports BIG. The title was immediately garnered a large following for its tricky fast-paced gameplay and went on to become a successful multiplatform franchise over the next half decade. Once the video game industry ushered in the next-gen era of consoles, SSX was all but gone. Wii saw a single SSX title in 2007, but Playstation 3 and Xbox 360 – whose predecessors had been home to the first in the franchise – found themselves without the over-the-top EA Sports game. Now, in the year 2012, EA Sports BIG has revived the series with a new entry simply titled SSX. Is the latest run down the slopes tr-tr-tr-tricky? Or is it a deadly descent into disappointment?
HOT
Race, Trick and Survive It
The latest SSX revolves around three core concepts: Race it, Trick it and Survive it. Past SSX titles have focused solely on the first two pillars of gameplay. This newest entry, however, adds one more into the mix, but let's focus on these one at a time. First, there's Race it. If there's one thing that SSX is good at, it's giving players a sense of speed. Slicing through the snow at break-neck speeds and launching off of jumps has never felt so fast and fluid. The goal set by the team was to create a snowboarding game that could create a sense of speed similar to that the Burnout series gives while behind the wheel. I must say, they definitely achieved that goal. Riders fly down mountains at such great speed that it's surprising (and satisfying) that they handle and respond so well. There is a silky feel as players cut through the snow, providing an ultra-smooth experience. The best part is that shooting down the same mountainside can be unique even after a couple runs. This is due to the multiple paths awaiting exploration on each mountain. Trial and error will lead players to the quickest route to the finish line.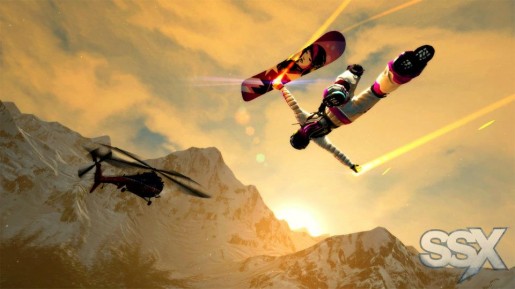 Next, there's Trick it. Obviously this has been a huge part of the franchise. I mean, the 2001 entry was titled SSX Tricky. Pulling off insane combos and exaggerated maneuvers are commonplace here. There are times when the rider will physically leave their board to perform something truly mind-blowing. Tricking is essential to progressing in SSX and moving up the leaderboards. Each landed trick provides boost (similar to nitrous in vehicle-based racing games) to push the snowboarder even faster down the mountainside. Continue tricking and you'll enter "Tricky" mode which opens up more options and limitless boost. Manage to pull off some more amazing moves and you'll enter Super Tricky mode. Once in this mode, riders can perform character-specifict uber moves that dish out tons of points. There's no need to worry if you don't stick the landing though. A rewind feature has been implemented to give riders a second chance at their combo, at the expense of a few points of course. How you decide to go about your super tricky performance is completely up to you. Remember when EA switched Fight Night's controls to the right analog stick? They've done the same with SSX, but you can decide whether you want the classic control layout on the face buttons or the analog stick. Just like Fight Night, the right stick can be flicked/held in different directions to show off what you're capable of. By rotating from one position to another on the analog stick, various maneuvers can be linked together for longer combo strings. This may not be a huge feature, but it helps long-time fans and newcomers alike select the control scheme that best fits their play style.
Lastly, there's the survival aspect of the game that presents itself through the deadly descent moments during World Tour, the single-player offering in this title. While the idea of turning a mountain into a variation of the conventional "boss battle" found in games may sound interesting, it actually isn't all its cracked up to be, but we will get to that a little later.
Courtesy of Need for Speed
A sense of speed wasn't the only idea that the developers wanted to imitate from other popular racing titles. The online portion – where you'll spend a majority of your time – of SSX takes several cues from Need for Speed's Autolog feature. As you try your luck in one of 150+ drop locations online in Explore mode, you'll be constantly defending your title. Completing a run in record time will alert your friends and they can try and outdo your performance. If they succeed in doing so, then you'll receive a notification that you no longer hold the number one spot. Choose to compete against them to reclaim your alpha status and you'll enter a race where you can see a "ghost" of the person you're competing against. This allows players to discover new routes and see what their competition believes is the quickest way down a mountain. It creates a continuous tug-of-war battle between players as each one must practice often to ensure they aren't dethroned.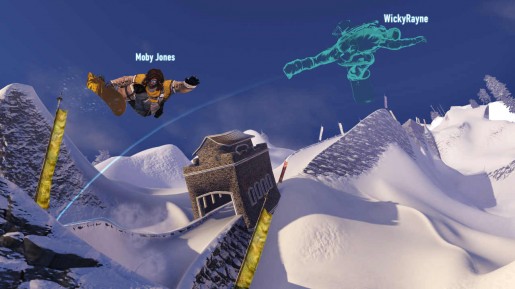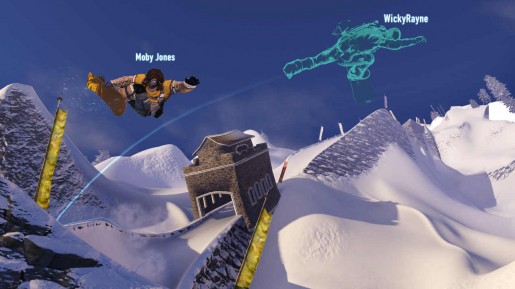 The other online option is Global Events. This mode includes a set of timed competitions that anyone can join. If a player competes in an event, then that person will be placed in a bracket that corresponds with the quality of his or her performance. Thanks to the Autolog-styled update system, it won't take long to find out if someone has stolen your spot or knocked you out of a bracket. Just like Explore, players will find themselves addicted to replaying events to show off their latest skill improvements.
So, what's so great about this system? Not only do you receive a sense of accomplishment when defending a title, but the game will constantly reward you for your snowboarding expertise. If a friend fails to beat your score or time, then credits will be awarded. Geotags, collectibles placed throughout levels by other players, even reward riders with credits. As each character heads down a mountain, they may find themselves in an area they believe impressive or hard to reach. They can place a Geotag there for other players to find and collect. The longer it goes untouched, the more credits roll in. The collection of credits can be spent on new characters, mods, clothing and boards. So there's definitely incentive to earn as much as possible.
Re-Re-Remix
EA has put their harmony engine to work to remix the 37 licensed songs in a way that compliments the actions on-screen. Use big air to land some impressive combos and you're sure to hear the classic (not literally, this is a remix of Run DMC's original) "It's Tricky". There's an impressive list of artists that even include newer sensations such as Skrillex. Regardless of your music taste, you'll most likely find something here to enjoy, but if you don't the game does allow custom soundtracks to be played and will even utilize the harmony engine to blend everything together.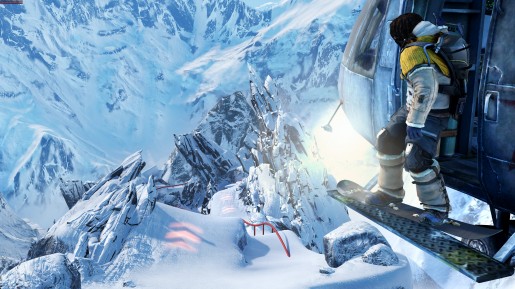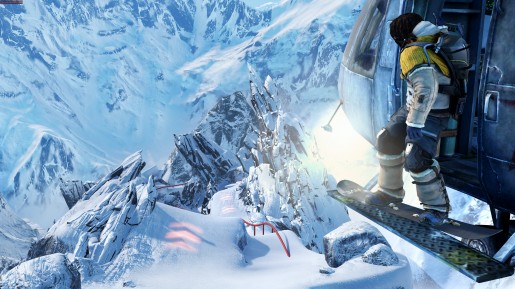 The Great Outdoors
While the tricks are quite the spectacle, the environments themselves are just as satisfying to watch. The game spans 9 of the most iconic mountain regions. The following are included: The Rockies, Patagonia, Siberia, Alaska, The Himalayas, Antarctica, The Alps, Africa and New Zealand. It doesn't matter which region you jump into, each one is breathtaking. The terrain looks very similar to its real-life counterpart, plus a few creative additions. Siberia still stands out as one of the most visually pleasing areas of the game. The crisp, vibrant colors working with the snow-covered and icy mountaintops provides an exceptional experience. These are some of the most inspired and best looking tracks you will see in any racing game.
NOT
Survive It… With Your Sanity
As previously mentioned, survival is a new element that is present in SSX. Speed and flashy moves are no longer enough to make it to the end. Survive It courses act as "boss battles" and will throw countless hazards at the player in hopes of stopping them dead in their tracks, literally. Armor can be purchased, and it is recommended, to help survive these deadly descents. Each area has one of these events and the player will be given special gear in order to slightly increase their chances of survival. However, death is inevitable. Various pitfalls and even the temperature itself can lay waste to any one of the riders. Different gear becomes available for these encounters, the most exciting of which is the wingsuit. The rest are bland and do nothing more than annoy the player as they try to remain in the light or fight for oxygen. The concept of implementing a boss battle equivalent into a sports game is by no means a bad idea, but the concept wasn't pulled off very well unfortunately.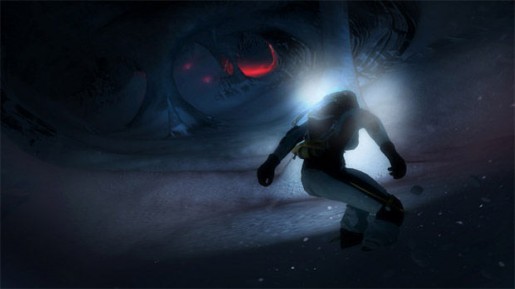 From Credit Card to Credits
EA is well known for its release of paid content that gives players items that can be obtained through normal gameplay. You may recall add-on content being released for Godfather II that provided abilities and fully-leveled weapons that are attainable by just playing the game. EA continues this idea by offering credits for real money. Did a Geotag you set go undiscovered by your friends? Here are some credits. Were you able to maintain a lead against those competing with you? Here, have some more credits. There are many ways to earn credits in SSX. So why would you want to dish out more money to be used as a shortcut through a $60 game? At full retail, I'd assume most gamers would want to play the game to death to get their money's worth. It doesn't make sense why someone would want to pay more to lessen their experience.
Verdict
SSX makes its simultaneous return to gaming and debut on next-gen consoles with much success. The core mechanics of the game are still in place, but they've been updated somewhat to keep up with the times. A majority of the events are a blast to play (2/3 isn't bad right?) and have the ability to cause extreme addiction to credit hoarding and leadboard competition. As you make your way through the game, you'll be greeted with outstanding visuals and music. The only area that the game falls short in is the new survival mechanic. While a commendable attempt, these endurance courses will test your sanity as much as your reflexes. Other than that, SSX has, for the most part, returned to its former glory and hopefully we see more of it in the near future.
[Editor's Note: SSX was reviewed on the PlayStation 3 platform. The game was provided to us by the publisher for review purposes.]
SSX Review

,