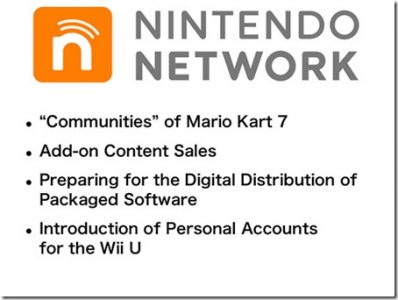 Satoru Iwata has formally announced Nintendo's upcoming online service, the Nintendo Network, that will cover both their upcoming Wii U console and the currently abailable 3DS
"Unlike Nintendo Wi-Fi Connection, which has been focused upon specific functionalities and concepts, we are aiming to establish a platform where various services available through the network for our consumers shall be connected via Nintendo Network service so that the company can make comprehensive proposals to consumers."
Nintendo's Wi-Fi Connection, that launched with the Nintendo DS back in 2005 and was later used for the Wii, came under much criticism from gamers for being unnecessarily obtuse when compared with its competitors, the Xbox Live and Playstation Network.
Iwata, however, hopes to introduce Nintendo Network as a comprehensive, competetive online service.
"For example, competitions and communication among users, as well as the sales of digital content, will be covered within the Nintendo Network," Iwata assured us.
"Whether it's our first-party titles or third parties' titles, for a number of games, we will actively attempt to achieve compatibility so that our consumers can enjoy our online services that we will deploy under the name of the Nintendo Network."
Perhaps as a jibe to the increasingly popular trend of offering superfluous in-game content along with exclusive pre-orders, or with other branded material, Nintendo seem to want to keep their games relatively whole on release.
"Please note that Nintendo, as a software maker, does not plan to deploy businesses where our consumers cannot know in advance which item will appear as the result of their payment and they have to repeat the payments and, before they know it, they end up spending a huge amount of money in order to obtain the items they originally wanted to purchase." Iwata said.
"As a software maker, Nintendo believes that its packaged software should be sold to our consumers in a form so that the consumers will know in advance that they can enjoy playing the software they purchased just as it is. We believe that our consumers will be able to feel more secure if we offer our add-on content as an additional structure in which those who love the game will be able to enjoy it in a deeper way for a prolonged play time."
With the advent of the Wii U it's about time that Nintendo took the online space seriously and if Iwata's words are anything to go by then Nintendo have ditched its apathy towards online and are finally working to develop this side of its consoles capabilites.
The first retail game to receive DLC over the Nintendo Network will be Tobidasu Pricla Kiradeco Revolution in Japan.
Source: Eurogamer