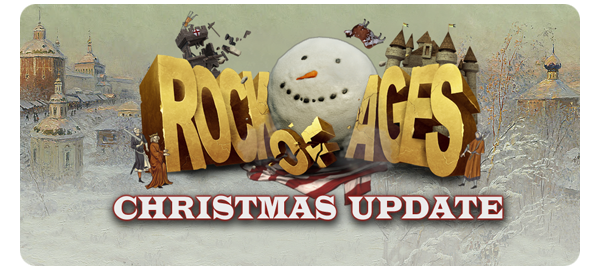 ATLUS and ACE Team today revealed that the Steam-exclusive PC version of Rock of Ages™, their balls-to-the-walls game of tower offense featuring fast-paced strategy, high art, and gigantic boulders of doom, would ring in the holidays and the new year with a Christmas content update.  The holiday-themed content includes an all-new Snowman's Head boulder skin (for both online and local use), permanently unlocks all defensive units for all maps, and introduces a number of limited time interface changes to make the game all the merrier!
As part of Steam's Holiday Sale, Rock of Ages for PC is now 50% off for a limited time and is also included in in the heavily discounted Awesome Indie Bundle!
"It's beginning to look a lot like Christmas… In Rock of Ages, that is," commented Aram Jabbari, Manager of PR and Sales at ATLUS.  "We're all about spreading joy to the gaming world, and that's why we're so excited developer ACE Team is able to follow up their terrific Halloween update with this new content for the holiday season.  Not only will the title screen and many of the other graphic elements get a temporary seasonal rework, but a new boulder skin and a significant gameplay tweak–not to mention a 50% off discount–should get people's bells-a-jingling."
Rock of Ages is currently available on Xbox LIVE® Arcade for the Xbox 360® video game and entertainment system from Microsoft and PC via Steam.  It is scheduled to roll onto PlayStation Network for PlayStation 3 system later this year.