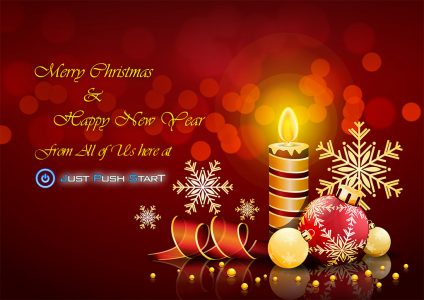 Dear Everyone,
Starting today, the majority of us at Just Push Start will be gone for the holidays and will not be back till January 2, 2012. During this time, you will see less updates on the site. However, if there's something ground breaking that we need to post, it will be posted. Since everyone in the industry is on their holiday break as well, I doubt there will be that much news lurking the inter-webs.
Our review editor, Phillip Price, has promised to give you guys an update here and there during the break. He'll be doing a daily update on our Skyrim Wiki Guide where you can expect new guides. In addition, our news editor Wilson Taylor also promised that he'll be posting something during the holidays.
I would also like to take this opportunity to thank everyone for supporting Just Push Start in its second year. As we approach 2012, we aim to make Just Push Start even bigger by giving you more reason to visit us everyday. As always, expect in-depth reviews in a timely manner, more video reviews, game guides, up-to-date news report, previews, and special coverage for big events in the industry. All of this wouldn't be possible without your support, the PR people in the industry, friends, and of course the Just Push Start family.
When we started Just Push Start in July 2009 – December 2010, we have reached a total of 6 million visitors in those 18 months that we've been online. As for the year 2011 alone, we have reached a total of 5 million visitors in 12 months, averaging in almost half a million visitors every month for one year. This is a great achievement for us and this will not be possible with your support!
Once again, I would like to thank everyone! Have a very Happy Holidays and a Prosperous New Year!
Sincerely,
Mark Fajardo
Edior-In-Chief
Merry Christmas & A Happy New Year! (A Message from the Editor)

,