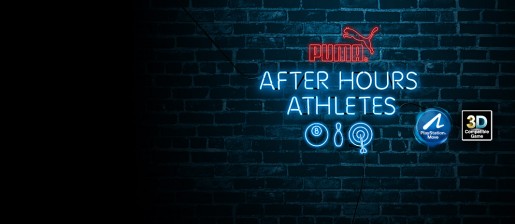 After Hours Athletes is the latest PlayStation Move bundle from Sony Computer Entertainment this time around including High Velocity Bowling, Hustle Kings and Top Darts. High Velocity Bowling like the name suggests is a virtual bowling game that was originally released on the PlayStation Network Store back in December 2007. Hustle Kings is a video game based around the game of pool that was originally out in January 2010. Last but not least, Top Darts is a darts video game released back in December 2010. Will After Hours Athletes be a game you will be happy to spend hours 'after hours' playing to will it feel like an afterthought?
Let's find out and kick of the HOTs and NOTs.
HOTs
High Velocity Bowling
The main mode after free play in High Velocity Bowling is the challenge mode which is split up into levels of increasing difficulty. The levels all offer 3 separate challenges for the player to complete. This challenges range from tournaments or one verses one bowling matches to trick shots. None stray far from the standard try to get as many pins down as possible model but the one verse one matches are especially enjoyable particularly when your opponent isn't bowling many gutter balls. After each challenge is completed players will unlock content which can simply be a different change of clothes to a new bowling ball or character. Once the player has completed the 3 available challenges they move onto the next level where the levels are that little bit harder and the process continues.
It might sound like you can't unlock much but unlocking new characters in High Velocity Bowling doesn't just mean having another character to choose from it also means a slightly different play style is on offer. The game offers a bunch of unique characters that all have their own personalities and attributes. Yes they have different sound clips and appearances but it is behind the scene where they are truly unique.  Every single character has their own unique statistics that means some are better at power and others spinning the bowling ball.
At first I was disappointed by the trick mode when it wasn't instantly exciting but I soon saw its beneficial nature. The mode allows players to try to knock down all pins in steadily harder pin locations. While players will be stumped after a few attempts on some the best use of this feature I found was introducing new players to the game as it allowed them to easily master the games aiming, power and spinning system before they played an actual game.
High Velocity Bowling offers a nice visual experience not due to the game having the best graphics, as they are only reasonable, but the themes are all distinctive and amusing. From bowling in a street light up by cars headlights and a slightly rundown trailer park to a standard bowling alley there are plenty of unique themes that are rather fun and entertaining bowling scenarios.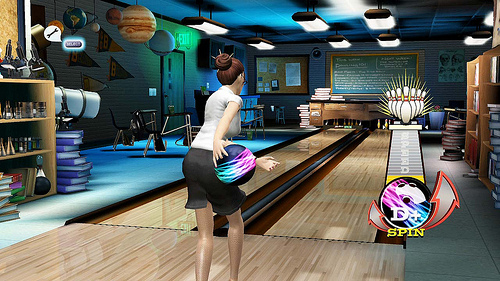 Hustle Kings
Hustle Kings isn't by any means going to have you jumping around in excitement nor is it going to be adrenalin rushing but it's the sort of game that doesn't need to be. What Hustle Kings had to nail and successfully manages to is fun and realistic gameplay. Using the PlayStation Move as a cue feels natural and players will intuitively be able to pick it up and feel right at home with the controls. This makes the controls easy concept to grasp and allows for simplistic but fun gameplay.
A couple of useful features will aid players when it comes to potting. There are three camera angles which allow the player to see the entire table from different perspectives including an extremely helpful top down view. While in the various camera angles players can also see visible lines and angles that the pool balls will travel in if the player hits the ball in that direction. This can get players out of tight spots as well as making some of the harder pots that little easier. Another feature that will help players is the ability to fine tune the angles of shots. In addition to the regular angling system players can use fine tune to move the cue much less to make it possible to get the exactly angle they want.
The game also offers a plethora of game modes to keep players entertained.  This range from the classic pool game Black Ball which involves the standard yellow, red and black balls to Trickshots mode which whilst it can be frustrating will see the players chipping and spinning the ball. Bonus games also offers the player a few challenges, my favourite being 'Beat the clock' despite being relatively awful at it.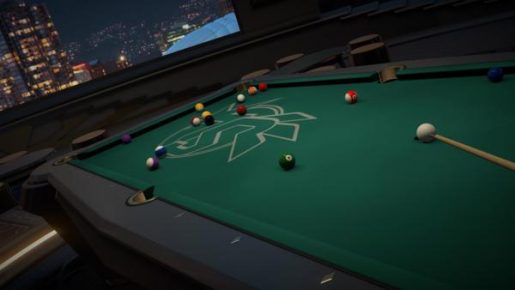 Top Darts' Tutorial
Top Darts saving grace is that it has a thorough and detailed tutorial which will allow even complete novices to use of the PlayStation Move and learn the basics of the sport. The tutorial will step the player through that parts of the dart board, the scoring and then how to aim and throw the darts. After this tutorial players will easily be able to play the game as if they had known the sport for many years.
NOTs
High Velocity Bowling's Lack of Spark
High Velocity Bowling is certainly a fun entertaining game but I felt that a little more could be done to take the game to the next level. One aspect that would have been a great addition to the game would have be a dedicated Trickshots mode like that in Hustle Kings. It wouldn't have to be realistic it could be for example bowling a ball up a ramp into a basketball hoop or trying to get a strike with moving obstacles in the way. This feature would have just added to the fun factor of the game and overall improved it slightly.
Hustle Kings Loading
The worst feature in Hustle Kings has to be the extensive loading times. While between menus and some frames the game loaded relatively quickly when loading a game up it wouldn't be uncommon to be waiting for around half a minute. Thankfully the gameplay is solid enough that it is definitely work the wait, however half a minute to load one game of pool still seems excessive.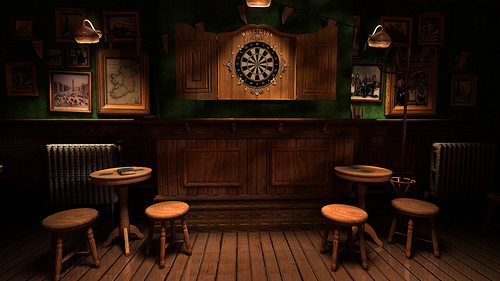 Top Darts
Of all the PlayStation Move titles I have played I haven't found a game that has been as uninspiring as Top Darts. Yes, the game has a wonderful tutorial that will step all players through the game of darts but the game fails to be anywhere near exciting or fun enough to make me play it over the other two titles.
As well as being moderately lackluster in terms of being a fun game to play the use of the PlayStation Move adds little to the game. The controls only become useable after a few hours of playing as they seem clunky at best until you become used to them. I was hoping that with motion controls the game would be brought up to an adequate level but honestly if it wasn't part of the After Hours Athlete I would steer well clear of Top Darts.
Verdict
Overall, After Hours Athletes is hard to rate as it is a bit of a mixed bag. What High Velocity Bowling lacks in spark it makes up for by offering solid gameplay and overall a pleasant presentation. Hustle Kings is another game which offers a decent presentation and entertaining gameplay. Unfortunately Top Darts will be enjoyed by very few due to the odd controls and most will enjoy the other two titles enough that they don't take the time to get used to the controls. If you own a PlayStation Move and haven't already got High Velocity Bowling and Hustle Kings then After Hours Athletes is definitely a game you should consider buying. On the other hand if you already own one of them perhaps the game bundle isn't for you.
[Editor's Note: After Hours Athletes was reviewed on the PlayStation 3. The game was provided to us by the publisher for review purposes.]