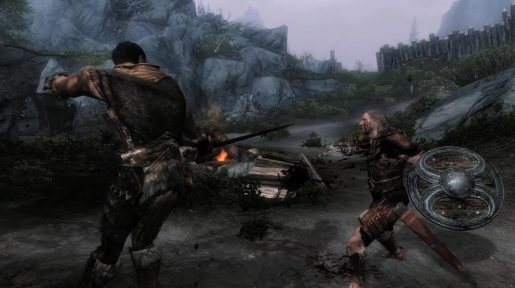 Collecting Dragon Shouts
In Skyrim, a legend was once told that someone who will aid the land from the god of destruction is a Dragonborn who possesses the ability of the dragon in the form of its shout ability. Apparently, you are the Dragonborn that was talked in the legends and with a lot of Dragons that you can slay in Skyrim, you get to absorb their soul and use it to unlock different Shout powers. There are more than 20 shouts that you can learn in the game and the effect varies. Some of the shout abilities can only be learned after reading an ancient tablet that are scattered throughout the land. Half of the shouts can be unlocked by going through the main quest while others will require you to roam the vast land of Skyrim.
Guild, Factions, and Unlimited Questing
Quests in Skyrim are diverse and they are littered throughout the land. Similar to Oblivion, players can join into different factions. One of the returning factions that fans can expect in Skyrim is the Thieves Guild and the Dark Brotherhood. To replace the Blades guild, the Companions are introduced in the game where they act as a protector of Skyrim. With each of the guild the player joins, expect to do a lot of quests. Finishing a quest line from the guild will give you a lot of advantage in the game as one example is it gives you the ability to turn into a Werewolf after the Companions quest line. Once a quest line is done, players can then go through personal quests of each of the members, but what the players will notice is that they can get repetitive.
Aside from the Thieves and Dark Brotherhood, there are other questlines that are waiting for you. The Deadras are back and there will be quests waiting for you where you will get artifacts that can be used as a weapon or armor from different dungeons. As I mentioned earlier, you will not run out of quests to do. There will always be something waiting for you, but just remember it might get tiring doing the same thing over and over again.
Marriage
For gamers who are fans of marriage in Fable games, you'll be pleased to know that you can get married in Skyrim too. Marriage is one of Skyrim's side attractions where your wife or husband can either get to stay home or leave the house that you bought. The choices that you make with your spouse will have consequences.
Game Length
Talking about the length of Skyrim, the main quests alone can be finished in around 20-25 hours. However, if you're one of those people that want to get deeper in the lore of Skyrim, you can take quests where NPCs will have their back-story and doing many of the game's quests can easily offer you over 100 hours of gameplay. Yes, it's a massive game and you can expect to say goodbye to your social life.
Lock Picking
If you're a fan of the Fallout games, you will notice some things that are borrowed from the games. Lock picking in Skyrim has evolved and it's now much easier for you to open doors. Instead of the mechanic that was used in Oblivion where you push up a mechanism inside the lock to open the door, it seems that Bethesda adapted the lock picking aspect from Fallout and implemented it in Skyrim.
Recruit Companions
In addition to lock picking, it is now possible to recruit a companion that gets to go with you wherever you go. In Oblivion, you'll only have the chance to get a companion depending on the specific quest you undertook. In Skyrim, you can recruit anyone that is available in the game and they can stick with you unless you part ways with them. This is one of the things that I love the most in Skyrim as it makes fighting enemies and monsters much more bearable. When having a companion, you can control their actions and have them equip the items you desire for them.
The Elder Scrolls V: Skyrim Review

,