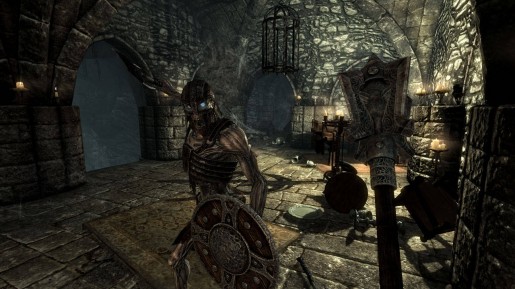 In-Depth Character Customization
The way you can level up in Skyrim is similar to that in Oblivion. Depending on how often you use the skill, you get to increase the bar that allows you to level up. Other ways to level up is by paying a NPC to raise that skill or simply read skill books that are all over Skyrim. Once you level up, then we all go through the skill tree, which is new to Skyrim. Every time you level up, you get a "Perk Points" that you can use to increase the effectiveness of a skill. An example of this is when you decide to become a mage and you level up, you can simply go to the Skill Tree of Destruction and increase the effectiveness of the Magicka you used or add some effects into it. Basically, the leveling system of Skyrim has become deeper and will require a lot of thinking as to what path and build you would like to do in Skyrim.
Aside from the deep leveling, you can expect to find good armors and weapons too for your character. With Skyrim so massive, you'll spend most of your time looking for loots and searching for that "best" weapon and armor. Similar in Oblivion, some of the best equipments in the game can only be obtained by doing sidequests. Doing the main quest only gives you half of the game's best equipments. If your goal is to become unstoppable in stopping the dragons, then you might want to have the best equipment possible.
… and Other
In addition to the things I mentioned above, there are small things that you can do and that's cooking, making your house look presentable by decorating, collecting every equipment out there in Skyrim, or simply enjoy the beautiful scenery of Skyrim.
NOT
Occasional Pop-Ins and Minor Graphical Issues
Skyrim's world is big and to make it load seamlessly, the game will do some heavy caching to your console. Despite doing that, there will be times that you will encounter occasional pop-ins where textures will just pop up as you roam Skyrim. Other minor visual issues are the slight screen tearing and weapons floating around. This has been pretty common to all Elder Scrolls game, but it's not something that will ruin the game.
Some Quests are Redundant and Repetitive after Questline
At the end of each questline from a specific faction and guild, you can still get quests from their members but it's not as unique as the quests beforehand. For the most part, these redundant quests revolves around two objectives for each NPC. An example of this repetitive quest is from the Companions faction where it asks you to kill a beast. If you're looking for quick gold, you can do that quest over and over again. Instead of killing the same beast, the game will randomize it, sending you to different locations and a type of beast that you have to slay. These types of quests makes the game longer but if doing these kinds of quests for hours will be tiring.
VERDICT
With all of the new things that Bethesda put in Skyrim, they have succeeded once again in making an Elder Scrolls game a surefire contender for "Game of the Year". The improved visuals and gameplay are much improved from Oblivion and the game offers a lot of variety of things to do that everything a fan could ever want from an Elder Scrolls title. As of this date, Skyrim is the pinnacle of RPG gaming offering countless hours of exploration and action.
[Editor's Note: The Elder Scrolls V: Skyrim was reviewed on the Xbox 360 platform. The game was provided to us by the publisher for review purposes.]
The Elder Scrolls V: Skyrim Review

,