Click here for more Skyrim Guides
As you venture through Skyrim, there will be several NPCs that will give their service to you and give you easy skill points for a Gold. Some of these trainers can be your followers, while some can be just random people that you meet in towns.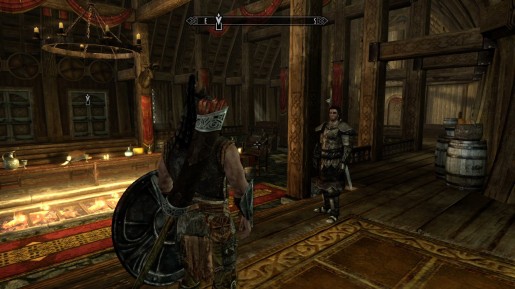 For those who have enough gold and wish for easy Skill Points, simply seek the fifty trainers that are scattered throughout Skyrim.
50 Trainers of Skyrim
The Path of Might
One-Handed
– Journeyman Trainer: Amren (Whiterun)
– Expert Trainer: Athis (Companions Guild in Whiterun)
– Master Trainer: Burguk (Dushnikh)
Two-Handed
– Expert Trainer: Tobjorn Shatter-Shield (Windhelm)
– Master Trainer: Vilkas (Companions Guild in Whiterun)
Archery
– Journeyman Trainer: Faendal (Riverwood)
– Expert Trainer: Aela the Huntress (Companions Guild in Whiterun)
– Master Trainer: Niruin (Thieves Guild in Riften)
Block
– Expert Trainer: Njade Stonearm (Companions Guild in Whiterun)
– Master Trainer: Larak (Mor Khazgur)
Heavy Armor
– Journeyman Trainer: Hermir Strongheart (Windhelm)
– Expert Trainer: Gharol (Dushnikh Yal)
Smithing
– Journeyman Trainer: Ghorza (Markrath)
– Expert Trainer: Balimund (Riften)
Path of Shadow
Lockpicking
– Expert Trainer: Mahjhad (Khajit Caravans)
– Master Trainer: Vex (Thieves Guild in Riften)
Pickpocket
– Journeyman Trainer: Ahkari (Khajit Caravans)
– Expert Trainer: Silda the Unssen (Windhelm)
– Master Trainer: Vipir (Thieves Guild in Riften)
Speech
– Journeyman Trainer: Dro'marash (Khajit Caravans)
– Journeyman Trainer: Revyn Sadri (Windhelm)
– Expert Trainer: Osmund the Skald (Markrath)
– Master Trainer: Geraud Gemaine (Bard's College in Soltitude)
Alchemy
– Journeyman Trainer: Lami (Morthal)
– Expert Trainer: Arcadia (Whiterun)
– Master Trainer: Babette (Dark Brotherhood)
Sneak
– Journeyman Trainer: Khayla (Khajit Caravans)
– Expert Trainer: Garvey (Markrath)
– Master Trainer: Delven Mallory (Thieves Guild in Riften)
Light Armor
– Journeyman Trainer: Scouts-Many-Marshes (Windhelm)
– Expert Trainer: Grelka (Riften)
– Master Trainer: Nazir (Dark Brotherhood)
The Path of Sorcery
Destruction
– Journeyman Trainer: Wuunferth of the Unliving (Windhelm)
– Expert Trainer: Sybille Stentor (Soltitude)
– Master Trainer: Faralda (College of Winterhold)
Restoration
– Expert Trainer: Keeper Carcette (Hall of the Vigilant)
– Expert Trainer: Colette Marence (College of Winterhold)
– Danica Pure-Spring (Whiterun)
Alteration
– Journeyman Trainer: Melaran (Soltitude)
– Expert Trainer: Dravynea (Kynesgrove)
– Master Trainer: Tolfdir (College of Winterhold)
Enchanting
– Expert Trainer: Sergius Turrianus (College of Winterhold)
– Master Trainer: Hamal (Markrath)
Conjuration
– Journeyman Trainer: Runil (Falkreath)
– Expert Trainer: Phinis Gestor (College of Winterhold)
– MAster Trainer: Falion (Morthal)
Illusion
– Expert Trainer: Atub (Largashbur)
– Master Trainer: Drevis Neloren
Skyrim - The Complete 50 Skill Trainers of Skyrim

,