Fate/stay Night is a visual novel that's fairly popular in Japan. It deals with deeper themes such as the self as an ideal and the importance of ambition and sincerity. Visual novels, by definition, are games that have very little interaction from the player, bringing itself just above Choose Your Own Adventure Books in the who's who of interactivity. Fate/EXTRA is a parallel universe game that takes place in a computerized version of a school where students must fight week after week to watch each other die and prove they have a right to exist. With such an interesting premise in place, can Fate/EXTRA get some value out of the rapidly dying PSP or is this dungeon-crawler a case of over-ambition? Check out the HOTs and NOTs of Fate/EXTRA.
HOT
Storyline
Without spoiling anything, the game takes heavily after the Persona series, being set in a Japanese High School with just a slight twist on the unreal. However, within the first thirty minutes to an hour, the game takes a hard left-turn into crazy-ville, taking a detour down insanity-street and coming out the other side in nutty-bonkers town. With a twist crazy enough to grab even the most jaded RPG player's attention happening within the first hour, it could be enough to instantly pop most cynical eyes on the game inside out and force your attention on the game's happenings.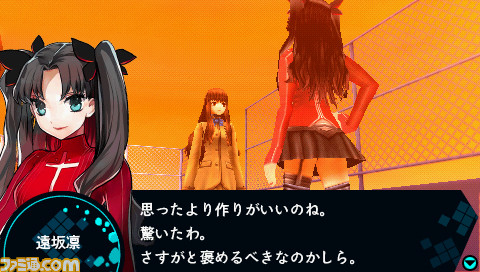 After the fact, the game starts to delve into it's true nature, where it was a visual novel before, taking after it's spiritual successor Fate/stay Night, players will begin learning about the game's mechanics and learning the truth of the world, not, however, without a heavy dose of amnesia to sprinkle on the strange-new-world cake. For some, the story might actually be enough to see the main character to the end of this 30+ hour game.
Writing
Aksys proved their localization and writing prowess with the BlazBlue games, a series of fighters with enough style and character to make up for the paltry presentation of it's strangely deep storyline. The characters in Fate/EXTRA often use western phrases and figures of speech that will sound oddly natural and real. While the Japanese probably don't use lines like "act like a tool" or "boring as sh**", the writing stands out enough to be enjoyable on it's own. The characters you are supposed to like, you will like. The characters you are supposed to hate, you will despise.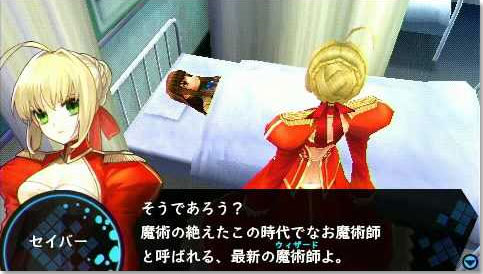 Art
While the art style may not resign itself to any pre-dispositions of newness or uniqueness, the art is clean, nicely styled, well-rendered and often a joy to behold. If you're an anime fan, keep your eyes peeled, because these are exactly the kinds of styles, renders and expressions that should be in your visual novel. While not unique by any standard, each character uses it's design to speak to their personality and the characters don't feel interchangeable or bogged down by the usual anime stereotypes. Instead of breaking off from the formula or resigning itself to samey art, Aksys held down the anime style, wrestled with it a bit and forced it into making something feel unique and magical about the world around them, even if the art is fairly common.
Stylish Battles
In each battle, the turns play out for six iterations after you've chosen them. This means once the actions are done, the player can sit back and watch the battle play out in front of them. These battle scenes use over-the-top animations and crazy super-power scenes to good effect, creating a look that's somewhere between a Marvel Vs. Capcom fight and a pokemon game. It serves the game well to watch your character's actions play out in a way other than the sterile looking "Two characters on either side of the screen take turns."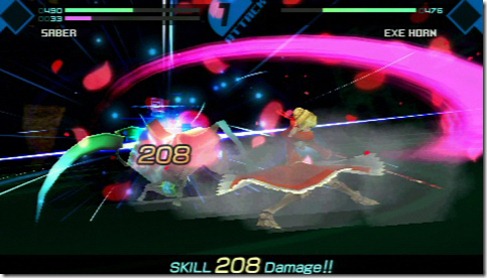 Well Realized Interface
One thing that has always bogged down the better JRPGs as a medium is the tedious nature of battles early on. Much of this can be attributed to battles that last too long to stay engaging in the beginning. Fate/EXTRA does what it can to avert these problems by making the battle system quick and simple, so that battles can come and go and never stay too long. It's a small touch, but it helps the entire game in it's wake, making it feel like a game that has actually been thought out, whatever it's limitations might be… which leads me to…
NOT
The Battle System
Consider every praise I've just given the game as a soft, gentle and reassuring coo to relax and comfort Fate/EXTRA before executing the killing blow and putting a bullet through it's innocent, blue-tinted head. Fate/EXTRA's battle system is, without ambiguity or the slightest doubt, a deal breaker.
The game runs on what is shamelessly a tarted-up version of Rock-Paper-Scissors. Each person in battle can Attack, Block or Break. These are put into a pre-set series of six, in which each combatant chooses what will happen in the six slots. Then they are compared, where Attack beats Break, Break beats Block and Block beats Attack. The stat-building and RPG elements come into play around this system, though not integrated into it. Stats effect the amount of health and mana the players get and how many moves you can accurately predict in the enemy. The idea in this system is not entirely guessing, it also plays around with pattern recognition, which is irrelevant because even with a well thought out strategy, the game never plays with pattern recognition enough to keep the game from feeling like a game of "What Number Am I Thinking?" except in this one, if you die, you revert to your last save instead of continuing to guess numbers.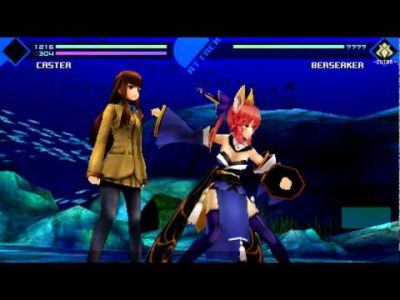 In the end, it feels as though the developers almost knew that the system was flawed and broken, so they did everything they could to make it bearable but to no avail. The battle system is beyond help. This is not well-designed difficulty, Demon's Souls is well designed difficulty, Devil May Cry is well designed difficulty. In a difficult game, the reason any person continues playing is that they feel they can do better than they did before, but with so much of the game designed around luck and guessing, it falls flat. While long-term strategy can pay off, it never does enough. You can buy new equipment and grind stats (though you don't get to choose how you level stats) and use spells and skills, it's never enough to make the game feel fair. Even if taking notes could potentially help you through the game, it's no excuse for bad design.
Indistinct Dungeons
Every dungeon wall has the same blue-tint and cyber-space void theme (which they call ocean-themed for whatever reason), which would look cool by itself, but it means every dungeon room and hallway is entirely the same, so it's easy to get lost in the bigger dungeons, though the enemy respawning isn't horrid enough to make this a truly reprehensible flaw. It does, however, tie into the above complaint. Playing through the battle system is so annoying and tiring that you'll want to make absolutely sure that you get everything the first time and not replay any battles so you can move right back into the story-line.
VERDICT
Fate/EXTRA is a waste of some truly beautiful potential. With a storyline that not only attempts, but succeeds at going above and beyond the cliches of it's genre and manage to squeeze out some wow moments and an art style and interface that's easy on the eyes and fun to look at and engage, it's a shame that the battle system falls so flat. Even a typical, samey-if-not-functional battle system could have carried the game's flow and storyline, but in it's attempts to innovate, Fate/EXTRA is the rare game that so drastically excels in some areas and disappoints so thoroughly in others. It breaks out of mediocrity as a corpse with stars in its eyes, a game that dreamed of the stars and ended up drowning in mire. In the end, though, Fate/EXTRA isn't worth it's own trouble.
[Editor's Note: Fate/EXTRA was played on a PSP handheld. The game was provided to us by the publisher for review purposes.]