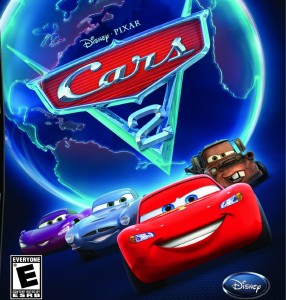 With the PSP Vita on the horizon and the original PSP fading into obscurity Sony seems to be going for a younger target audience with their stripped down, budget version of the console, the PSP E-1000. Cars 2 was seemingly cancelled a while back with gamers missing out on a PSP representative of the Cars 2 game. However with the E-1000 imminent Sony have chosen to resurrect the game. Is this something to celebrate or something to be wholly apathetic about? Read what's hot and what's not to find out…
HOT
Novice players will be at home
Ok, certainly I'm not the person this game is aimed at. The primary demographic probably only cares that this is licensed Cars material and the titles launch in time for the re-focused PSP E-1000  only serves to validate this thought. So how might the intended audience receive the title?
The game opens with a truly endearing little FMV starring characters from the movie and serves as a framing device for the games various challenge levels. Essentially the Cars gang are having fun on the new C.H.R.O.M.E simulation machine, allowing them to take part in all kinds of virtual challenges. None of the family-friendly spoof spy movie stuff from the film makes it through to this game though, so the games only link to Pixar's franchise is a visual one.  From then on the plot – and I use the word in the loosest sense of the word – takes a backseat to the low input gameplay.
While the mechanics are bound to leave anyone but kids uninterested they actually work as a point in the games favour for younger players. The interaction is minimal, for sure, but there's just enough of it to endear itself to the novice gamer. The visuals are bright and crisp on the PSPs huge back-lit screen and there's enough challenge levels and for an obsessive child to get some good mileage out of the game, despite the hand-holding nature of the gameplay.
If you want a gift for a younger relative who loved the movie, or are a child gamer yourself with a reading comprehension level far beyond your years, Cars 2 might be worth the purchase. For anyone else…
An…interesting concept
If I had to jumble around in my personal bag of generic lexicon to assign a category to Cars 2 I'd have to take two words and mash them into a strange new term. That term would be 'on-rails racer'. Booting up Cars 2 you would be forgiven if you thought you were about to play some kind of kart-racer. It's not a kart-racer though. It's on-rails. It's like playing Ski Electrics with licensed Cars toys while somebody rolls a string of pleasant landscapes in the background. Perhaps this isn't necessarily a bad thing. Perhaps this approach to the racing genre can provide an interesting and engaging new experience, but if it can then Cars 2 certainly isn't the game to do it.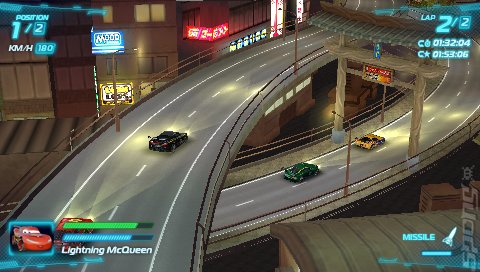 NOT
Very, very shallow
The game seems to be more about spectacle than about having much control over anything. Most races are won by holding down the accelerate button and tapping the directional controls to switch lanes and avoid crashing. Sure, you can also direct yourself into additional gas to activate a boost or shield, or pick up a weapon to slow down an opponent but there's something terribly artificial about this approach to gameplay. While you automatically lapse into stylish power slides around hair-pin bends it's hard not to feel that the game is the one having the fun while you're resigned to toying with secondary functions. The game is a fussy parent who doesn't trust you to do anything so important as steer.
Cars 2 may have been a nifty little racing game if playing was more engaging than holding the acceleration down and occasionally tapping the directional buttons but as it is there's simply little in the way of actual game to play and all the games flaws stem from this uninvolved method of play. There are various colourful courses from around the Cars world to unlock, but the shallowness of the gameplay means that each one represents little more than a new set of obstacles to memorise. There are a plethora of characters to use but the only real decision to be made is between speed and how much jostling you can take before spinning out . There are tons of badges and accolades to collect but they only really act as a benchmark.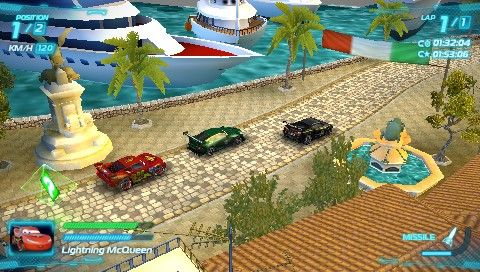 The camera wants to watch you burn
The games camera glides around the action as though it were stubbornly televising the grand prix and not acting as my eye glass into an interactive world. The fixed camera works atrociously for this style of racing. As the main challenge of the game comes from anticipating upcoming obstacles and switching lanes (or jumping clean over them, ramp unassisted…)  having a camera that sometimes deprives you of a forward view is just baffling. Half of my own race losses were due to obstacles on the road that I couldn't see because the camera thought it would linger on Lightning McQueen's self-assured grin – which was promptly exploded off his face when he ploughed into the corner of an unforeseen intersection. I can't even say that this was frustrating for me. No…frustration would require me to have some kind of emotional investment in the game. Each time I exploded by driving into another stack of hidden boxes I felt no rage, only a hollow, dead apathy. For those attempting to ace the various challenge scenarios or traverse each lap unscathed I hope you either enjoy learning the obstacle placement of each of the games tracks or have powers of telepathy.
Verdict
Cars 2 on the PSP is an uninspired cash in on what is perhaps Pixar's most underwhelming movie yet. As always with these movie tie-in games, it's not the premise, the setting or the characters that are objectionable, it's that the execution is so very hollow, minimal and flawed as to be flat and lifeless. If you're not bored and finding your eyes wandering away from the screen you'll be frustrated at the camera. The rare times you find a stray thrill or sense of excitement around the bend it'll be crashed into the ground by an unforeseen obstruction. The triviality of the gameplay might help a young gamer get accustomed to interaction but anyone else will find Cars 2 sorely lacking in almost every
department.
[Editor's Note: Cars 2 was played on a PSP handheld. The game was provided to us by the publisher for review purposes.]
Cars 2 Review

,