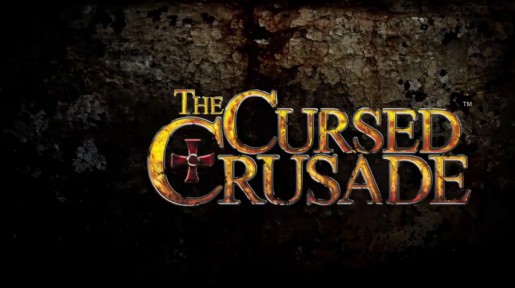 When I first got my hands on The Cursed Crusade, I was very excited. The game had many features that were not only new and exciting, they were also off the beaten path. Much to my dismay, this game did not come anywhere near fulfilling its potential.
In The Cursed Crusade, you play as a young Templar who is seeking out his father who never came home after the third crusades. As you venture out and begin your journey, you meet a Spaniard nearly twice your age, but you both have a commonality; both your souls are damned as you both (along with many others) share a curse that allows a transformation into a demonic form of yourself, thus giving you greater speed and strength. So on top of finding your father, you are also trying to lift the curse from you and your newly found friend.
HOT
Weapon Quantity
There are so many weapons in this game it is almost absurd. There are around sixteen different combination of weapons to choose from. There are spears(one and two handed), axes(one and two handed), swords(one and two handed), maces, shields, and any combination of these, each having their own sets of techniques and finishing moves. That means that dual-wielding swords, dual-wielding axes, and one weapon in either hand would yield three different finishing moves. Not to mention that these finishing moves are something to behold.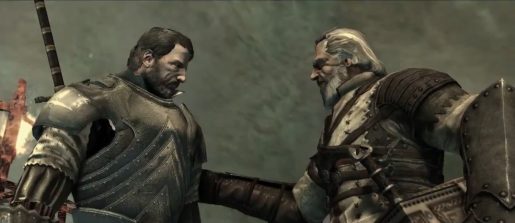 Blood, oh the Blood
This game is extremely gory, and when I say gory I don't mean like God of War gory; I mean like Gears of War gory. No matter how many times you see your character slash at an enemy's head, seem to have missed, only to kick them in the sternum and watch that head go flying, it never gets old. I don't think I'll ever forget the sweet sound of some one drowning in the blood that is flooding their throat with my sword going through it and my shield holding their head in place; yeah, it's that kind of gory.
NOT
Co-op
I must admit, when I started playing the split-screen co-op in The Cursed Crusade, it was very cool. Unfortunately, it didn't add anything new and after fifteen minutes, had lost its luster. The Cursed Crusade did not take advantage of this feature whatsoever as there are only two levels that require you and your partner to split up and nothing either of you do has any effect on the other persons environment.
Combat
This was such a let down; the combat system tries so hard not to be a button masher, but honestly the timing that is required leaves you frustrated and you quickly learn that it's easier to just mash the next button in the combo. At times certain combos work flawlessly, and other times you can't pull off a single combo.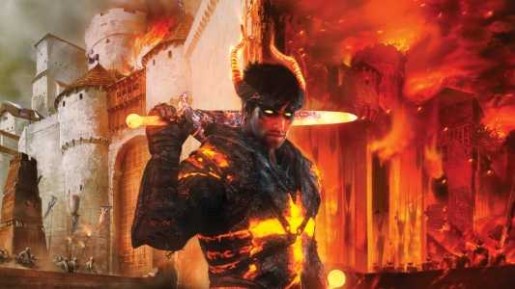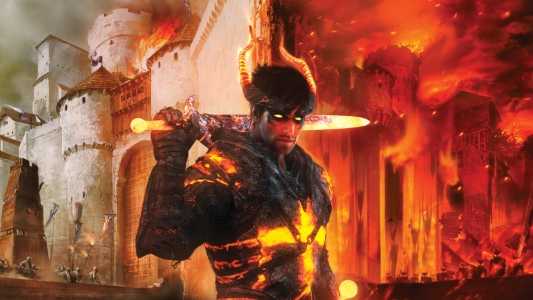 Voice acting and writing
At the beginning of the game, the voice acting is pretty good, the narator tells the tale of The Cursed Crusade well, but once other characters in the game start speaking, its like nails to a chalkboard. This is seen as early as the first level. Lines such as, "But Milord, they rain arrows down upon us like a pissing cow" are heard throughout the entire game.
Missing Sound Effects/Music
At one point in the game, you are tasked at lowering a drawbridge so that your army can get inside the castle; well it seems that in the world of The Cursed Crusade, drawbridges are like ninjas because this one (as well as the rest of them throughout the game) was 100% silent. One boss battle I encountered had no music whatsoever. These are only a few of the many times you will notice missing sounds and effects.
Extreme repetitiveness makes for a boring game
By the time you're reached the third or fourth level in the game (should only take about an hour or two) you've pretty much played the entire game. Sure there are a few new characters, and maybe even a new power or two, but these new powers are so rarely used, they might as well not even be in the game. Every level feels like the last one, and you will constantly find yourself asking "Why am I doing this again?"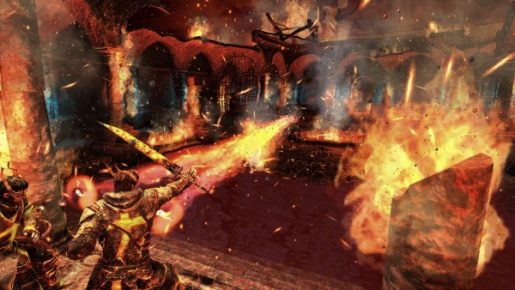 Storyline
When you first start playing The Cursed Crusade, you have a clearly defined reason for your character's actions. As the game continues, those definitions become more and more vague until you reach the point where all you want to know is "What just happened?" Characters die off and then are brought back without explanation of how, motives change with the drop of a hat, world altering events occur and no one seems to notice, and between chapters attempts are made at giving world history lessons explaining what has happened during the course of the game.
Anyone seen the bugspray?
There is an offensive amount of bugs still left in this game. During multiple cut-scenes the main character would be speaking but his lips would not move at all; in one scene in particular there was a very interesting 300 reference that I didn't even notice until after the cut-scene was over because my character had become completely invisible and this happened twice during my play-through. The icing on the cake was the bug that rendered one mission unbeatable. Halfway through the mission there is a gate that must be opened in order to move on to the second half of the stage; this gate would not activate causing me to replay the stage a multitude of times (I stopped counting after 10) before I could pass it.
VERDICT
The Cursed Crusade is not for everyone, as a matter of fact it's not for anyone. The game's poor combat execution puts all those pretty weapons to waste, bugs eat away at every piece of satisfaction there is to be had, and the missing sounds and music constantly pull the player out of the gaming experience. This game had the potential to be great but it just feels like it is unfinished and it leaves you unsatisfied.
[Editor's Note: The Cursed Crusade was reviewed on the Xbox 360 hardware. The game was provided to us by the publisher for review purposes.]
The Cursed Crusade Review

,