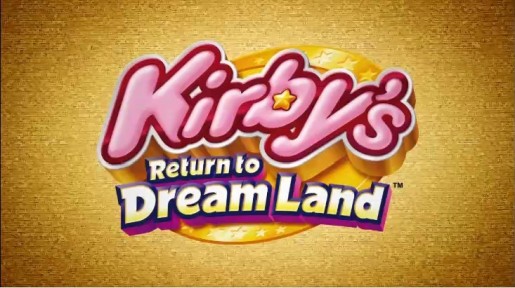 Kirby is iconic, if nothing else. Even to people who have never played a Kirby game, they know full well the devilishness encased in his tiny little pink body from at least a few brawls in Super Smash Bros. Thankfully not as iconic as Mario, because Kirby is the small little mass of pink sculpting clay that Nintendo uses when they don't want to risk Mario as a guinea pig.
While he's experimented with copy abilities, racing stars, doppelgangers and, let's not forget yarn, Kirby's Return To Dreamland plays it remarkably straight. Played as a multiplayer spiritual successor to Kirby's Super Star on the Super Nintendo, can this game rise above nostalgic to become something great? Let's take a look at the HOTs and NOTs of Kirby's Return To Dreamland.
HOT
Multiplayer
Putting this game's best foot forward, Kirby's Return To Dreamland wants you to play it multiplayer. It really really wants you to play multiplayer. It's streamlined drop-in, drop-out multiplayer is easy and accessable to a frankly insane degree. It takes 30 seconds to know and "get" the controls, and to come into the game, one simply presses the '+' button on the Wii remote and chooses a character, the available characters being King Dedede, Meta Knight and Waddle Dee (With a bandana and a spear).
This can happen during a boss fight, in the hub worlds, during a super-attack and pretty much anywhere except the cutscenes. Just as easily, a person can drop out by holding the '-' button. Few games are structurally able to support this kind of easy multiplayer access, it could break a game like Donkey Kong Country Returns, but the game is not only able to support it, but it begs you to.
And because of this feature, same-character-fatigue is a concept that is entirely obliterated. Should another couch-mate get bored with King Dedede's heavy, sturdy style of play, he can drop out and be back in as Meta Knight or another Kirby in a matter of seconds with little to no discernible consequence. In this ease of access, the game abandons any hopes of being a truly hardcore platformer, but is instead able to provide a party platforming grandstand that is almost unequaled on any console, let alone on the Wii.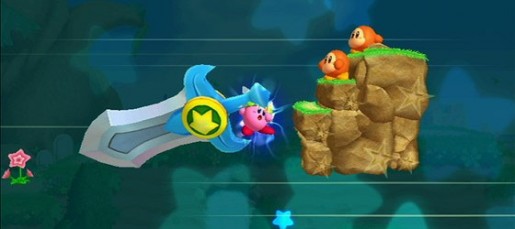 Length and Substance
Kirby games have a bad reputation for being often short. That is not the case here. Sniped between the eyes are issues with brief levels and even briefer campaigns. More than twice as long as most Kirby games, this is due in part by the fact that there are two entire worlds to explore, each containing five to six surprisingly long levels. The levels by themselves reward exploration with intense hidden rooms and make honest-to-God attempts to keep the experience fresh.
While some levels may appear eerily similar to others and it may follow some classic Kirby formulas (such as "Defeat the hammer guy, take his power, use hammer on wood block later on in the stage"), each level is solidly designed with well-implemented game-ideas, interesting rewards for those who take time to explore and often some genuine challenge. This is a game that clearly understands the virtue of value. A game can be a mind-blowing experience, but if it isn't substantial, it will still have been a waste of sixty dollars.
Game Flow
This is a game that moves like a hot knife through butter. Rarely slowing down to the point of frustration or boredom, even the slower and less-chaotic moments of the game still feel as though they move at a steady and entertaining pace. Without a doubt, had the multiplayer not been implemented so expertly, the game flow could have wavered, hissed and sputtered like a T-Model with an angry cat inside of it. Even doing away with most loading screens, Kirby only slows down for the pause button, and this is something that is taken for granted in the modern games industry.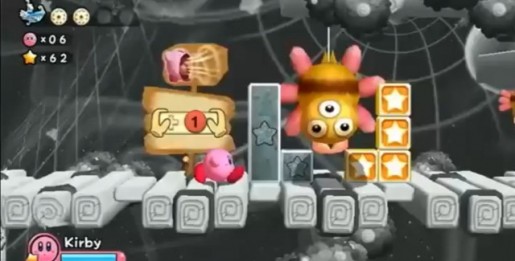 Color And Visual Design
A Kirby game without color is an unimaginable thing, unless you play the original Gameboy titles. With great color choices in every single stage, the game's visual design can range from pleasant-backdrop to absolutely-gorgeous backdrop. The multiplayer chaos can sometimes make it difficult to take in all of the scenery the game has to offer, but this is hardly worth a complaint.
Nostalgia That Works
The game hearkens back to Kirby's Super Star more than anything, taking the occasional hint from Kirby's Adventure/Nightmare In Dreamland, but doesn't rely too heavily on nostalgia as a selling point. With enough tweaks to stay interesting, the game builds on Kirby's Super Star as a formula, creating something new from the experience and a blast to play with friends. This game is a love letter to anyone who's every played a side-scrolling Kirby game and just wishes they had someone to talk to.
NOT
Single-Player Weak In Comparison
Nostalgia will hit you the hardest while playing the game by yourself. Appearing to be more of the time-tested formula of the linear-exploration side-scrolling that Kirby is famous for, the game is not lacking a strong single-player structure. That being said, it can't compare to the colorful, chaotic nature of three friends on a couch fighting for the ultra-abilities and running away from advancing walls of death. The multiplayer is an addictive, friendly rough-housing, co-operative experience that the single-player, no matter how substantial, can't hope to live up to.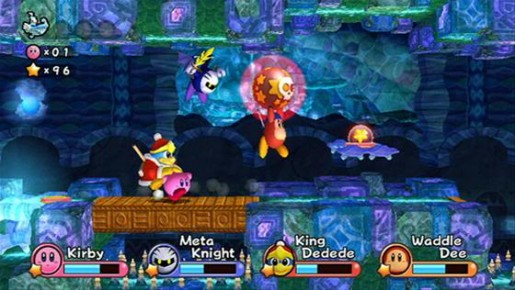 Occasional Samey-ness
Yes, you will visit the slow-moving water levels more than once, and yes, you'll be stripped of all of your copy-powers there. You'll be seeing lush, colorful fields of green on more than one occasion, and you'll be a repeat customer to the sword-ability whether you mean to be or not. This is not a Kirby game that has ambitions to having an obscenely large number of copy abilities or gameplay modes. However, what it does, it does so well that the game can still rise above this as a basic fault.
Inconsistent Presentation
The design, in both audio and visual departments, can sometimes seem like they weren't made with the same flow that the gameplay has in mind. Some of the enemies and mini-bosses can look blocky and ugly next to the extremely well-rendered main characters; Textures can sometimes be flat or boring and there is a strangely jarring shift from "Beautiful Snowy Backdrop Music" to "You Died, Nice Try, Stupid" game over music. This is, again, a petty gripe, but a noticeable one at times.
VERDICT
Kirby's Return To Dreamland is not a faultless game. Progressive gamers will be turned off by the fact that the game is made in the same style as an NES game, and there are design gaffs here and there. These all come up to being complaints that can't stop or even slow down a game that is made with fun in mind. With excellently implemented multiplayer and chaotic, yet still precise and polished platforming, this game probably won't be wow-ing you with cinematic wonder, but you'll walk away satisfied and content, reminiscing about the experience as a whole.
[Editor's Note: Kirby's Return to Dreamland was reviewed on the Nintendo Wii hardware. The game was provided to us by the publisher for review purposes.]
Kirby's Return To Dreamland Review

,