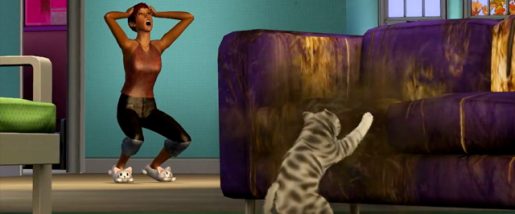 The Sims latest expansion pack, Sims 3: Pets, is slated to release on October 21st across multiple platforms. What may come as a surprise, is that some of the pets were actually inspired by other EA titles Dead Space and Dragon Age but only on the Xbox 360 and PS3 Limited Edition versions of the game.
As well as the limited edition pets, players are also allowed to give their Sims and pets an exclusive pet store venue as well as change the look and feel of their Sims' town. Below is the full list of Limited Edition Pets:
Aztec-inspired Aztec Panthera cat
Panda Pom dog and Panda Chow dog
Skunk Birman cat
Tiger Chi dog and Tiger Husky dog
Dead Space-inspired Ishimura Bobtail cat
Bat-inspired Pouncer cat
Electronic LED-lit Cyber-tooth Tiger cat, Data Pup dog and Data Pointer dog
Robot-influenced Mecha Neko cat, Iron Terrier dog and Robo Dane dog
Dragon Age-inspired Mabari War Terrier dog and Mabari War Hound dog
Skeleton-themed Skeleton Crew Cat, Bone Mastif dog and Bones dog.