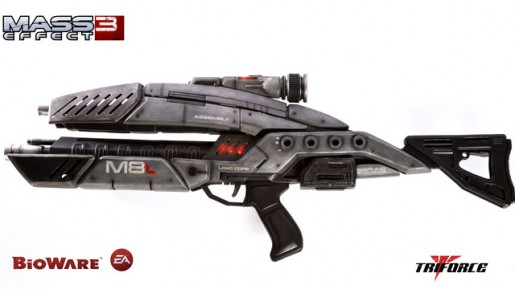 That's right. No longer will you have to drool over the weapon replicas that die-hard Mass Effect fans have spent considerable amounts of time creating. Well, that is to say if you're one of the first 500 to purchase the item.
Check out Bioware's online store to view the beautifully crafted and detailed M-8 Avenger Assault Rifle. As with all limited-quantity collectables, this one carries a high price; $650 to be exact.
Here's the official description:
"This is the most authentic representation of this weapon available on the market. The M-8 is precisely hand-finished and hand-painted by the artisans at TriForce.

Intricately crafted and cast in polystone, it is a 1:1 scale replica that stands a massive 34″ in length, 12″ in height and weighs 20 pounds. Limited Edition of 500 made."
If you just happen to be in the market for a beautiful sci-fi weapon to add to your collection, then hurry up and pre-order this item. According to the site, any orders will be sent out early next year since the release date is expected to fall within the first quarter of 2012.
So, what do you think? Is it worth the hefty price tag?