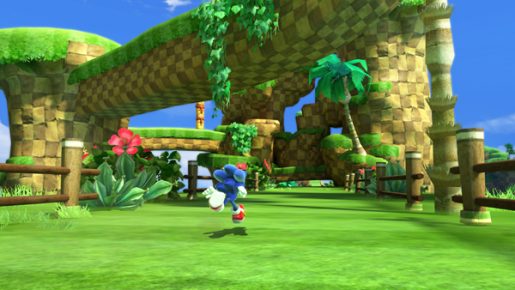 DISCLAIMER: The opinions expressed in this article do not express the opinions of Just Push Start. Just that one annoying cynical guy again.
Let me tell you about taste.
No, don't actually, because that is a sentence just asking to be led into a pretentious rant about why everyone who likes Sonic is a moron. Here's the twist though, they aren't. Sonic fans get a lot of grief on the internet for being a largely un-pleaseable fanbase and many of them torturing the Sonic franchise into weird, moral-gray areas and atrocious fanfiction.
But despite this, unironically, Sonic fans aren't morons. They're beaten housewives. They remember the days of Sonic Adventure 2 and Sonic and Knuckles and would give anything to go back to that time. In this daze, they seem to have forgotten that Sonic Team, the lover they come back to over and over again, no matter how many times they cheat or run away or get violent, has become a foul-smelling troglodyte.
However, Sonic Team can change. Consider Sonic Colors the longing love letter, the one soaked in tear-stains.
Dear Fanbase,
I know the things I've done. The ways I've hurt you. I can never take back the things I said, the way I treated you. But I'll do whatever it takes, fanbase, if you'll have me.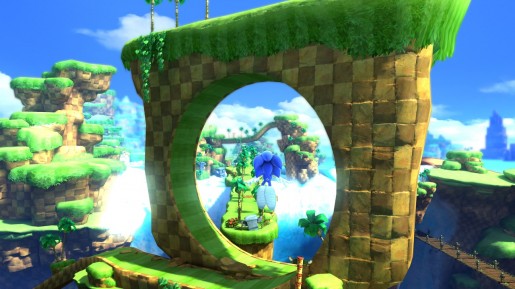 The love letter that may have come a little too late, the one where you don't know if you can ever truly forgive someone that gave you Sonic The Hedgehog (2006), pretty words, fast gameplay and functional controls only mean so much in the end.
But you decide to give Sonic Team another shot. But if he screws up this time, you're packing your bags and going back to your mother's place, assuming your mother is Bubsy or something. Also, that was the sound of the metaphor straining under it's own weight.
So Sonic Colors was pretty good, or so my Sonic friends tell me, as do reviewers and some of the more charitable and less troll-y people online. I never played it myself because I had played Sonic Unleashed and Sonic And The Secret Rings, I left Sonic Team before they had a chance to hurt me again. I only have so much love to give.
However, life has its ways of tripping you up and turning the scorpion-lollipop of cynicism into beautiful candied beer.
Due to circumstances I am obligated to leave out, something happened in my life that forced me to start watching the development of Sonic Generations. Oh dear, I thought, scratching my head and biting my lip. I was being dropped off at a party and seeing my ex there. My ride just ran off and left me stranded. I was avoiding eye contact as much as possible, but of course Sonic The Hedgehog is going to approach. He always does.
It started off innocent enough, look how adorable Classic Sonic is, and hey, maybe if you're lucky, he can replace Omochao. After playing the demo, no such luck, unfortunately. But it's gonna be Sonic and Sonic teaming up, and apparently it's going to be all very retro.
Oh, so you're making Sonic The Hedgehog 4: Episode 1 again, but charging full price, huh? Don't lie to me, Sonic Team, you always lie to me.
But without skipping a beat, I was treated to the delightfully colorful reimagined Green Hill Zone, with beautiful lighting and fun, inviting color palates and breakneck speeds. I wasn't going to fall for it. Nice try, guys. Now where's the hub town or the Were-hog segments? Huh? What are you not showing me?
I was waiting for it. He was going to add RPG elements, I just knew it. With my eyebrows furrowed and my fists balled up in frustration, I was waiting for the gimmick. He was going to show me Sonic's new superpower, segments where Sonic turns into a snail or you have to do a gardening minigame to advance.
"Oh, what?" Sonic said to me with a smile that could bring a grown man to his knees "You mean these charming little segments where you play as Classic Sonic and don't sacrifice game flow?"
I had to keep my jaw from dropping. Maybe he's changed, I thought to myself. Maybe he's the way he used to be.
But he hasn't gone back to normal, he's improved. Better than he was before.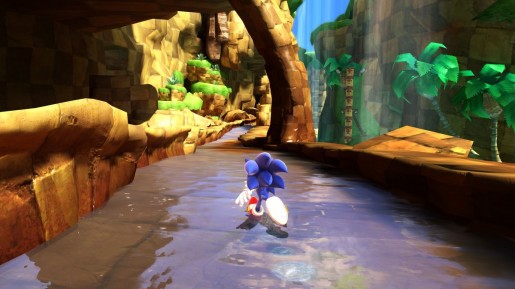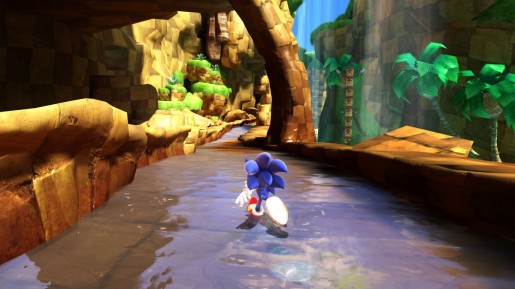 I may be pre-judging, but I played the Sonic Generations demo 10 times. I've watched the trailers 20 times each and for God's sake, I'm actually finding myself getting excited again. Sonic has nothing to hide this time around. You play the demo and, unless the developers are either really stupid or really REALLY evil, the demo is what you get. A small sampling of the smorgasbord that Sonic Generations is shaping up to be.
It's not the most challenging demo I've ever played, but for good reason, it's the first level. However, more than once (8 times) I found myself playing again, trying out Act 2 over and over just to beat two minutes and thirty seconds. I did it, by the way, 2:28:04, beat it.
My point is, I feel like a moron for getting excited, and I probably am, but the demo is a solid little thing, it's got beautifully directed art design, gameplay more conducive and strategic than the usual fare and it left a really good taste in my mouth.
Nostalgia is an extremely dangerous thing, however, perhaps we can overlook Sonic's crippling addiction to nostalgia, he practically drip-feeds it to himself every morning, and just move on to think that maybe, just maybe, a good Sonic game is on its way.
RIGHT on the same week as Uncharted 3.
And for the first time in my life, I feel kinda bad for Sonic Team.
I Forgive You, Sonic Team

,