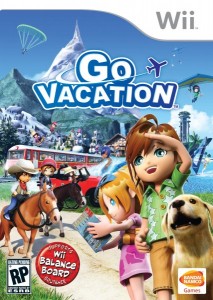 The casual game market is a picky thing. With titles such as Wii Sports, Farmville and Bejeweled becoming overnight classics, it's hard to tell when the next big hit will come from. Namco Bandai is hoping for this type of success, presenting the player with a cornucopia of 50 mini-games in one giant, adorable package with Go Vacation on Nintendo Wii.
Will this be the next overnight casual game sensastion, or another failed attempt? Let's take a look in the HOTs and NOTs of Go Vacation for the Wii.
HOT
Cute Anime Style
At the start of the game, you have a choice of playing as your custom Mii or playing as an Avatar. The avatars, (no matter which age category and style is chosen), looks like someone used the teleport machine in The Fly to combine kittens with Naruto and as such, the game has an extremely cutesy anime vibe. This coupled with the popping, bubbly sounds provided by the text scrolls means that the game isn't just cute, it's criminally adorable!
Lots To Do
Go Vacation is aiming to be a game that can explored, endlessly realized and whimsically fanciful. Think of it as the movie Pleasantville meets the X-Games. If nothing else, the amount of games will make it feel like you honestly need to get everything done. This is a big resort (or 4 medium resorts) and there's something to do around the next bend.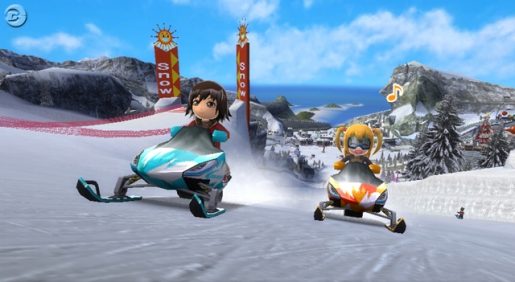 Open World
In a strange vacuous twist of events, it seems that even Namco Bandai's more casual studios have their cross-hairs aimed squarely at Grand Theft Auto. The game is made up of 4 different resorts, all of which act as a hub for different games. To unlock games, you must traverse the world and find whoever is next suggested on your list of super-fun-games-to-play. If nothing else, this accomplishes the idea of feeling big. It may not be the biggest sandbox ever, but there's still something oddly immersive about hearing some island party song in the background while the wood of the pier clomps under your feet.
NOT
Remarkably Boring
The moment you realize that whatever cute presentation the game has to offer, it's little more than the first layer of an onion created by a mad scientist for the express purpose of boring you out of your skull. Where it has its sights aimed squarely on being a big world with lots to do, it couldn't have missed the point any harder without a Turbo Anti-Precision Boost. The game's sandbox feature is so horribly realized due to the fundamental philosophy behind the design. To be a big world with lots do to, all the things you can do must not feel like a chore. Every minigame, disregarding a few which are fun the first time, but not worth the 30 dollar price tag, is a battle of attrition.
For the sake of simplicity, let's compare the game to Wii Sports, a fantastic little morsel of fun that came free with the Wii. In comparison, Wii Sports dedicated its entire spectrum to making five well realized games. Well except boxing, but shut up, I'm trying to make a point here. Each game is deep and has its own set of rules and variables that have to be watched out for and kept in consideration, jumping the replay value by at least 7.49 Billion Trillion percent. It had a sense of flow and urgency, something that cannot be understated in this day and age. Wii Tennis, Baseball and Boxing was urgent because while it didn't over-burden you with complexity, the variables were well-placed and thought out enough to where the challenge and the important White-Knuckle-Factor could still be felt. Wii Golf and Bowling were deep enough to be relaxing but still challenging.
In Go Vacation, they had a goal in mind. 50 games. 50. They accomplished their goal, but this is called spreading yourself too thin. Depth and urgency plays a part in all games, including casual games. Where would Angry Birds be if it wasn't at least slightly strategic? Or Fruit Ninja if it coddled you and gave you a jillion points because you've been a good boy lately? Without depth and urgency, all the game can allow you to do is let you dominate the competition and watch the timer run out. You'll finish more than a few races being in the unstoppable lead, and then keep running because there's nothing else to worry about, just finish and get it over-with. But this isn't a game breaker, right? Could my 7-year-old girl still enjoy it?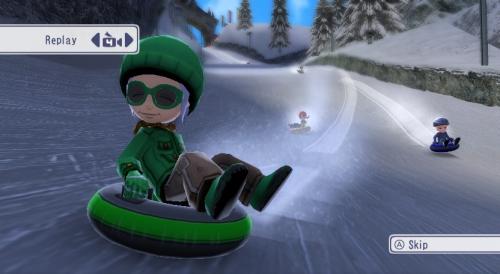 Finicky, Obtuse Controls
The long answer is this, a game could be saved by its immersion. The feeling of revving up your JetSki (or your "Marine Bike" as its referred to) and going out into the open sea with the ocean splashing below you could be enough, right? It could, and it very nearly did. However, this is a casuals game, and by that, it means that buttons and joysticks are just a little too complex for the average casual gamer, and it seems to be hanging a big ol' "No Hardcores Allowed" sign above its tree shack and it only wants to see your classic, dual stick control methods rot and fade into obscurity.
That may have been a bit callous, but when plugging in the classic controller, looking for different control schemes and searching every nook and cranny for some better way to control the game, Go Vacation would continue showing me the words "Wii Remote And Nunchuk" when I opened the control window. You will step in line gamer, and if you don't like it, go back to playing Too Human. The motion controls are awkward, but not awkward enough to get worked up over or even retain any comedic value. In the worst of times, it can be too obtuse for even gamers of a more hardcore bent. I.e., the first moment you step in roller skates. You waggle the remote and nunchuk to move forward, twist your body and continue to turn and hold B and thrust upward to jump. To do tricks, hold a direction on the D-pad and swing your arms like you're pretending you have ball-and-chains attached to your shoulders.
The short answer is no. No 7 year old will enjoy prancing about through awkward controls to get to the next boring, shallow and awkward mini-game when plenty of other decent casual titles let you step right into the fun. And maybe those games have decent controls.
"But couldn't the game be saved by its presentation, like you praised it above?" You may ask, assuming you're still attempting to defend this game.
Broken Structure
This is a game that seems to think you care about wandering around and taking in the sights when all the sights are add up to flat textures, cheap bush effects, poor polygon counts and the same anime face every nine steps. Not only that, but the game is poorly optimized, the framerate begins to chug with two people playing at certain points, For a casual heavy design, there seems to be little to no party focus, and lastly the audio design.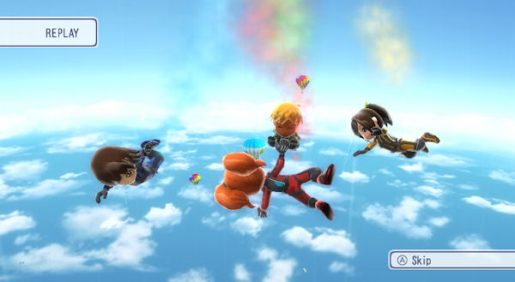 Deserving special mention here, the audio design is so outlandishly broken, so undeniably terrible that any sane person will mute it before the main-menu singer can finish two lines. The music is so unbearably bad and repetitive and annoying that the only kind of person who could enjoy this diabetes-sweet, "In Good Times In Bad Times We Stick Together" pop anthem nonsense would be someone who has entirely the wrong idea about what other people like. This is a game that would need to be taken down brick by brick, the entire concept would have to be re-worked to be any good.
VERDICT
In closing, this is a game for absolutely no one. The key word here is insulting. Hardcore gamers will be insulted, its unwillingness to allow anyone to play however they want will be insulting to your casual-gamer family, along with the fact that casuals will have to be strung through its obtuse and annoying sandbox mode, even your little sister will be insulted when no one wants to play with her and the games aren't fun enough to warrant playing anyway. This isn't a game for hardcore gamers, casual gamers or even children. It alienates every demographic and the worst part about the entire experience? The game is having infinitely more fun than you are.
[Editor's Note:Go Vacation was reviewed on the Wii hardware. The game was provided to us by the publisher for review purposes.]
Go Vacation Review

,