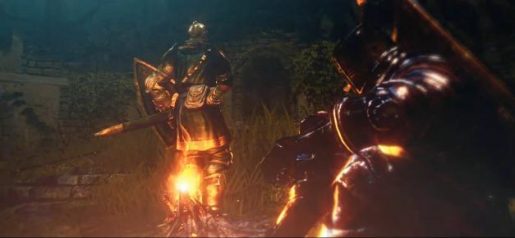 Following your first playthrough, you can once again play Dark Souls for a much greater challenge. From Demon's Souls, a lot are wondering what happens on the New Game + and what are the benefits for playing it all over again?
If you're looking for a far greater challenge, playing the New Game + is what you should do. After finishing the game, you can start a New Game + and have the following things carried over to your second playthrough:
– Items
– Weapons
– Armors
– Soul Level
– Number of Souls
What about the items you can't carry over? Here it is:
– Items such as Keys
– Lord Souls or any of the bosses souls you get
– Embers
Now that you know
what items will be carried over, let's talk about the changes to the game.
Similar to Demon's Souls, players who wish a second playthrough will face a greater challenge. The enemies and bosses in the game are much harder. Majority of your attacks will only deal small damage as the enemies' level bumped up to 1.5 to 2.5x. Expect to die a lot in the second playthrough and yes, you'll get frustrated but that's been the point of the game. Take note that ever playthrough you do, the difficulty increases even more. It doesn't matter if you do it four times or ten times, just as long as you can handle the stress.
So what are the benefits?
Well, for doing more than playthrough, you'll more likely able to get a Platinum Trophy. Some of the items in the game requires more than one playthrough to get. There are missable rare weapons and items that will be a great interest to you.
Dark Souls: New Game+ Detailed

,