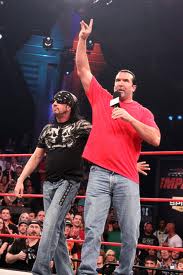 It's now been confirmed that three specific wrestlers will not make an appearance in the upcoming WWE '12. Scott Hall, Sean Waltman, and Jeff Hardy will not be in the new game. Hall is known by wrestling fans as Razor Ramon in the WWF. Waltman is known for being the 1-2-3 Kid, The Kid, The Cannonball Kid, The Kamikaze Kid, The Lightning Kid, The Hardluck Kid, and more.
This whole thing started due to a mystery wrestler being added to the game and fans assumed that since the trio are "Legends" they could be added to the game.
A fan asked THQ Tank ""What are the chances of the mystery superstar being someone along the likes of x-pac or jeff hardy maybe even razor ramon??".
He responded with "The mystery superstar is none of those guys, and none of those are amongst the final 14."
Speaking of the final 14 some of the legends include The Road Warriors, Eddie Guerrero, Demolition, Vader, and my personal favorite: Big Daddy Cool himself Kevin Nash.
Three Specific Wrestlers Won't Be In WWE '12

,