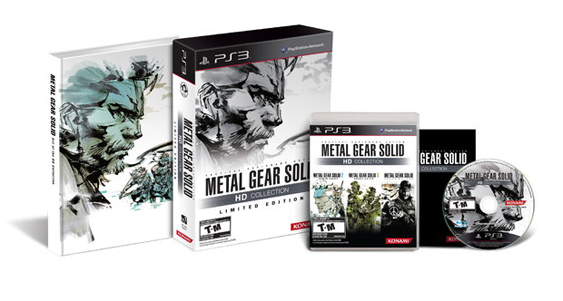 Konami has officially revealed details of the "Limited Edition" coming out for the upcoming Metal Gear Solid HD Collection.
This "Limited Edition" of the game includes some neat packaging and even a 248 page artbook. Fans of the Metal Gear Solid franchise will want to get their hands on the artbook as the illustrations will no doubt be stunning.
Limited Edition Includes:
• Standard game
• Specialized packaging created by series lead artist, Yoji Shinkawa
• 248 page exclusive "The Art of Metal Gear Solid" artbook
Features for Metal Gear Solid HD Collection include:
• Remastered from the ground up for PS3 & Xbox360
• Stunning 1080p graphics
• 60 frames-per-second graphics
• Icons, sound effects, and all fonts upgraded for HD
• User interface rebalanced for HD
• Added right analog stick input and force feedback
• Features Trophies on PS3 and Achievements on Xbox 360
• Worldwide matchmaking for multiplayer (tentative)
• TRANSFARRING (save data sharing) compatible with PSP version
The Metal Gear Sold HD Collection is scheduled for release November 8, 2011 in North America and November 23, 2011 in Japan.
Konami Officially Unveils "Limited Edition" Metal Gear Solid HD Collection

,