inFamous 2 is the follow up to 2009's critically acclaimed inFamous which made the franchise one of the more premier PS3 exclusive titles . Developer, Sucker Punch is trying to prove it can add more explosive super powered fun as inFamous 2 promises to be one of this year's best games.
Most super hero games are repetitive so can I expect more of the same in inFamous 2? Is Cole McGrath even a likeable main character? Is there multiplayer in this game? Answers to these questions and more as we take a look at the HOTs and NOTs of Infamous 2.
HOT
Fresh Experience
inFamous 2's gameplay is something that I have not seen in many years. Although 2004's Spider-Man 2 game can be considered to be the first ever super hero sandbox game, inFamous 2 takes the rare genre into a whole other level.
I never played the first inFamous game, so what I was experiencing in inFamous 2 was an all-new fresh experience. With the plethora of shooting games flooding the video game market recently, inFamous 2 shows that there are great games still available from other genres.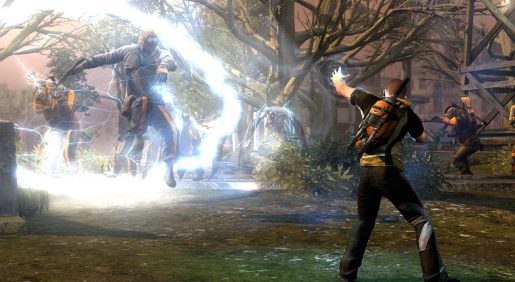 Gameplay
The best part about inFamous 2's gameplay is that the combat in the game rarely gets old. This is because Cole McGrath has many different skills and abilities as part of his arsenal. Not only that but he can unlock even more powers as you progress further into the game.
Cole McGrath can freeze people, electrocute people, levitate objects, glide in the air, throw sticky grenades from his hands, ride on telephone wires, climb buildings with ease and many more.
He's a proficient fighter too who can deal damage from both long and short range. Cole has a staff of sorts which he wields to defeat enemies from close range. His ability to shoot electricity from his hands is helpful for picking off enemies from afar.
I was both surprised and pleased to know that inFamous 2 has a cover system. Cover systems are normally used in shooting games but it proved to be very useful in inFamous 2. Some of the enemies you face love to bombard you with turrets or even mortars. Had this game not have a cover system, I would have died many times.
Recoverable health and lots of checkpoints
There's nothing more annoying in an action type of game than having low health all the time. inFamous 2 has a lot of enemies and huge bosses that would made life very hard had it not been for recoverable health.
Sometimes you will die in inFamous 2 but there's no need to worry too much as there are frequent checkpoints in every mission. It was quite a relief playing through inFamous 2's missions. I find it very repetitive and downright frustrating when you die and have to restart a mission all over again…
Story
inFamous 2 doesn't have a story as brilliant as Heavy Rain, but it's interesting enough to keep players engaged. There's a huge titan-like monster called "The Beast" wrecking havoc across North America. Cole McGrath thinks he's strong enough to defeat "The Beast" but beaten quite easily.
From there, Cole McGrath knows he needs to grow stronger if he even stands a chance of defeating the mammoth Beast. He arrives in a new city called New Marais seeking crystal-like "blast cores" that enable him to earn new powers.
Along the way, there are new enemies and allies that Cole will meet. The story has a bit of twists and turns along the way but I won't spoil it for you. All in all, the storyline is something you will see in an X-Men comic book.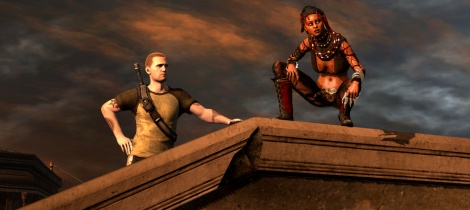 Lots of Missions
If you follow playing the game's main storyline, you can expect to finsih the game at around 20 hours. It's advisable that you even play the game twice to experience some outcomes and missions you may have missed along the way. This is because inFamous 2 has a morality system that allows you to pick certain missions that have both good and evil outcomes. You can even unlock new powers depending on what your karma is. You will even get different endings depending on what decision you will make.
Not only are the main missions diverse, but there are a number of side missions and street missions that you can complete too. One of my favorite street missions in inFamous 2 is deviously killing off street performers. The first time I did this I couldn't stop myself from laughing. What kind of super hero is Cole McGrath when he's killing off innocent buskers on the street?
There are also user created missions that you can partake in as well. The missions here aren't as diverse as in LittleBigPlanet games, but it's a good starting point for other developers to build upon. It also keeps the game fresh and exciting even after you've finished the game as new missions are created quite often. If you don't like what you see then you can always create your own missions.
Huge City To Explore
New Marais may not be the biggest city ever created in a video game, but it's big enough for you to have some fun. The best thing about Cole McGrath is that his powers allow him to travel across the city with relative ease. As aforementioned, the telephone wires situated across the city can be fun to ride on and there are lots of bright lights and even some easter eggs to discover. The movie theatre in InFamous 2 will be of most interest to most sharp-eyed gamers.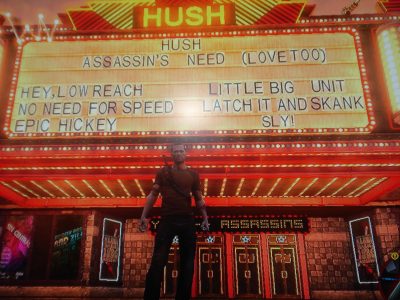 Graphically, InFamous 2 is no Uncharted but it's the second best looking sandbox game on the PS3. Had it not been for L.A. Noire inFamous 2 would have taken first place.
NOT
No Multiplayer
During his journey to become more powerful, Cole will be joined by two female characters who also have superpowers. I couldn't help but notice that this game could have had some sort of co-op mode. With the release of Sony's new 3DTV I'm sure a co-op mode in inFamous 2 could have worked well. Maybe it's something to think about if Sucker Punch wants to release inFamous 3.
Cole McGrath Is A Boring Main Character
As fun as it is being Cole McGrath, the character himself is bland and not very interesting. He reminds me a lot of Starkiller from the Star Wars Force Unleashed games. He has the same shaved head and angry attitude. That is why I believe characters such as Nathan Drake or even Goku are universally admired. Those two characters have a sense of humor and are heroic at the same time. Cole McGrath just comes across as a stubborn and miserable individual.
VERDICT

Despite Cole McGrath being a boring main character, his powers make up for his monotonous personality. The gameplay in inFamous 2 is very enjoyable and a nice change of pace from the many FPS games that have been released recently. inFamous 2 is a brilliant single player experience as can be considered to be one of the best PS3 exclusives ever made. Let's hope more sandbox superhero games are made in the future.
[Editor's Note:inFamous 2 was reviewed on the PlayStation 3 platform. The game was provided to us by the publisher for review purposes.]
inFamous 2 Review (NZ)

,