Some people have the perception that all side-scrolling platform games are aimed for children. Outland is a new side-scrolling game for the Xbox 360 and PS3 that shows that not all games from the genre have to all be cutesy in their appearance.
Is Outland a game that adds new features to the genre? Are the visuals worth showcasing on an HDTV? Is this game even worth buying? Let's find out as we take a look at the HOTs and NOTs of Outland.
HOT
Visual Presentation
Outland is one of the most visually alluring games I have played in a long time. Its style is very unique and is unlike many other titles that are released as part of the platforming genre. The shadows and background art that makes up several of the levels are simply breathtaking.
There are also times you will encounter bosses. I did not think this game would have bosses but the first time I saw one, my jaws dropped on how cool looking the first one was. It was a giant fire-like statue that covered almost half the screen. His behemoth appearance is like you're facing up against one of the Titans from Greek mythology. Keep a look out for more bosses as there will be more where that came from.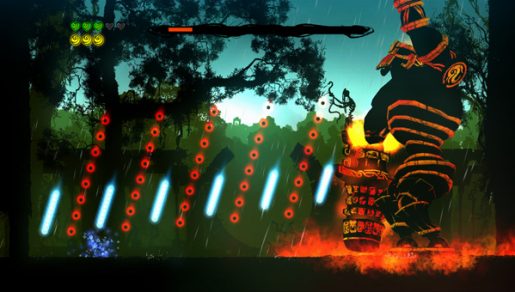 Unique Gameplay
Most platform games can be quite repetitive in nature. They normally consist of you jumping and bashing any baddies that come along you way. The main gameplay in Outland differs thanks to the light and dark powers that you will possess. At first, you won't have access to these powers, but as you progress, your powers will grow and the game gets more enjoyable. Once you have access to both light and dark powers, you will have to make a choice on which one to use in certain situations.
You will glow red while using the dark power and a bright blue while using the light power. To kill enemies glowing red you will need to change into light in order to defeat them. Likewise enemies glowing blue you will have to change into your dark powers to defeat them. There are also many doors, laser beams and floating platforms that will glow red and blue too. Sometimes you will have to time when to change into light or dark or else you will plunge to your death…
Variety Of Moves
When you first play Outland there isn't much your main character (he has not name) can do. He can only do a basic jump and sword attacks. As aforementioned, as you progress further into the game he will have access to more moves. This includes a Crash Bandicoot style slide, wall jumping, the ability to shoot beams of light and more. You can even do combo attacks on the enemies in mid-air if you're skilled enough…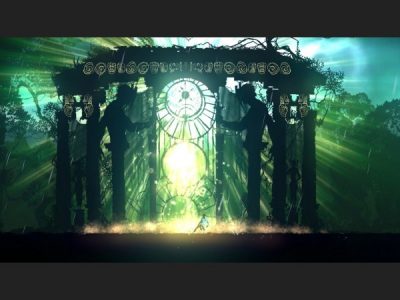 Large Levels
This isn't your average platform game I might add. Whereas most side scrolling games see you walk from one side of the level to the other, Outland's level design is heavily inspired by the likes of Castlevania and the original Prince of Persia.
There are numerous paths that you can take as the game forces you to explore every inch of the level. You will have to find keys and other devices that will open up new areas within the level. It's this type of gameplay that has been sorely lacking in today's video games in my opinion.
NOT
Areas In Levels Look The Same
As great as the game looks, some of the areas in each level do look the same in most parts. There are often times you will have to backtrack to find a specific door you've just opened up. Sometimes it can be quite confusing to do this as you may not sure where you're going as the areas look very similar to one another.
Can Be Quite Hard
Don't expect this game to be easy. It's not as unbearably hard as games such as Hard Corps: Uprising and Ace Armstrong vs. The Alien Scumbags, but it can be hard in specific areas. Some levels can be littered with traps and enemies and you can expect to die a lot in this game. It can get quite frustrating especially if you're a casual gamer.
Verdict
Outland is one game that is so artistically beautiful it needs to be played on a decent sized HDTV to fully appreciate its wonder. Thankfully the game itself plays smoothly as well and brings a new experience to the side scrolling platforming genre. The levels are large and the gamr will take a few good hours for you to complete. Outland truly is an out of this world experience that any true gamer should experience.
[Editor's Note: Outland was reviewed on the Xbox 360 platform. The game was provided to us by the publisher for review purposes.]
Outland Review

,