Full House Poker is an Xbox 360 game that allows you to use your Xbox 360 avatar to play..ummm well poker. There have been many poker video games released but this is the first time where the game's presentation has a more family-friendly approach. This is thanks to the cutesy appearances of the Xbox 360 avatars used in the game.
Is Full House Poker any different from any other poker game released before it? Will non poker fans have fun playing this game? Find out as we take a look at the HOTs and NOTs of Full House Poker.
HOT
Presentation
Unlike other poker video games, the presentation of Full House Poker is cute thanks to the use of the Xbox 360 avatars. What is also great about this game is that there are no voice overs. I hate it sometimes when other players talk trash during a game of poker and gloat how they won a large pot. In this game however, all they do is smile and dance. Not only this but your avatar can also sit there and perform numerous tricks with the poker chips while they're waiting for the cards to be dished out. You can unlock various chip tricks as you progress further into the game.
You can also customize the appearance of the deck of cards, table and chairs at the poker venue. One of the patterns I was able to unlock were the Zebra stripes. You can also choose to make the table and chairs all pink if you're that way inclined…

There are also different venues for you to unlock. The venues are buzzing with night life and are pretty stylish. Although you cannot physically look around the venue the amount of detail that has been put into this is to be admired. Outside the windows you can actually see the lights of the city down below and they've even included a fish tank just to name a few.
Easy Game Of Poker
Poker can be quite difficult for those that are unfamiliar with the game. Luckily, this game allows you to change the settings so you can only play against one other player at the table. It's often a hard and lengthy process trying to outlast six other players in a real game of poker, but eliminating just one player is a good way for beginners to grasp the game.
It's also a cheap but effective way for you to level up and earn more rewards. I remember raising the pot numerous times just so that the other player would lose their money faster. Every player starts off with $1000 and bets usually start off real small – like $5 to $20. It's a good thing that this game does not reflect the real game as you can confuse the other A.I. player easily by pretending you have a good hand almost every time by raising your bets.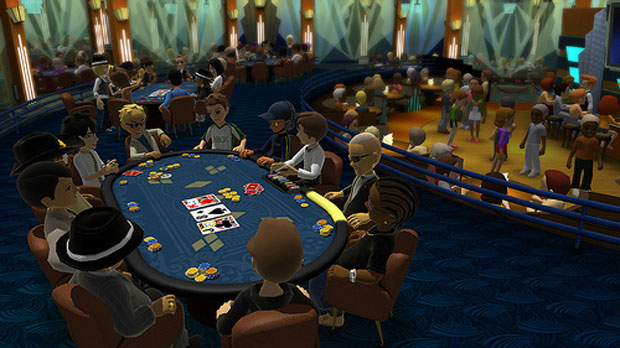 Lots to Unlock
As you progress further into the game, the more you will unlock. Not only does this include new decks of cards, patterns and venues but they also include new clothes for you avatar. The clothes themselves looked pretty humorous on my avatar. The ones I've tried out so far are the "waiter" clothing and "security guard" ones. The clothes weren't very stylish but it was worth seeing as they looked rather funny on my avatar…
NOT
It's Just One Game Of Poker
Unlike in other casino-style games only Texas HoldEm poker is available for you to play. There's no five-card draw poker or any other disciplines of the game for you to play. It kind of gets a bit boring just playing the one style of game all the time. The longevity of the game is seriously limited if you're not really a fan of the game of poker. There aren't any other game modes to play other than the Texas HoldEm poker. Fans of poker won't mind this but it would have been a nice addition if other casino-style games were included in the game.
Have To Be Online All The Time
It's also weird to note that you have to be connected on Xbox LIVE all the time in order to play the game. I just wanted to play the single player mode one day and it told me I had to be connected to Xbox LIVE. This was not a problem for me as all I had to do was turn my modem and laptop on.
VERDICT
Full House Poker is a fun game that captures the game of poker is a fun and family-friendly light. The fact that the game uses your Xbox 360 avatar is arguably the best thing about the entire game. Although its lack of modes may deter some gamers as its just includes poker. Fans of poker won't mind this game however, as it's fun and will keep them occupied for hours on end.
[Editor's Note: Full House Poker was reviewed on the Xbox 360 platform. The game was provided to us by the publisher for review purposes.]
Full House Poker Review

,