The Everybody's Golf franchise (also known as Hot Shots Golf) has been a franchise for Sony platforms for well over 15 years now. The original game came out in 1997 and the franchise has since been released for the PS2, PSP, PS3 and now it makes its glorious debut for the PlayStation Vita. Does this new iteration of the series add anything new? Does this game take advantage of any of the new hardware controls of the PlayStation Vita console?
Find out as we take a look at the HOTs and NOTs in our review of Everybody's Golf.
Hot
Gorgeous Graphics
Almost every game released on the PS Vita so far has looked bright, colorful and downright gorgeous. Although most gamers would praise Uncharted: Judi Slot Online Jackpot Terbesar Deposit Pulsa Golden Abyss as the best looking games on the PS
Vita so far, I really love the graphics in Everybody's Golf as well. If you are a fan of Japanese anime-style character models, you will instantly fall in love with the character designs in this game. Unlike the shoddy created character models seen in Reality Fighters, the people you can get to choose to be in this game look a lot cuter.
Another thing you will get to love about the presentation in Everybody's Golf is the golf courses themselves. It's probably the only golf game you will ever play where you get to see some wildlife
running around the course. You will see rabbits and even bears roaming around in some courses. It's highly unlikely you will see actual wildlife in real-life golf courses but it's a nice touch in this game since this is a light hearted approach to the sport.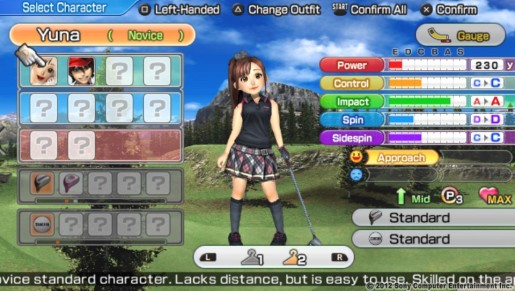 Accessible And Addictive Gameplay
The best thing about the Everybody's Golf franchise is how accessible the games are. This is not a strict simulation of the sport of golf like in EA's long running Tiger Woods PGA Tour games. Everybody's Golf makes the sport more fun by Situs Judi Slot Terbaik Dan Terpercaya No 1 2022 adding a happy and upbeat atmosphere you won't see in the actual sport. If you think that golf is only a sport for boring old people, have no fear as Everybody's Golf is nothing like the real thing.
The gameplay in Everybody's Golf is very simplistic that anyone should be able to simply just pick up and play this game instantly. The only button you will have to familiarize yourself with is predominantly the "X" button. There's a meter shown on the screen and you have to press "X" to control how much power you want on your shot. You then only have to press "X" again to control the impact of your shot. If you press "X" at the wrong time, it's likely you'll hit the ball wrong and it will be sailing out of bounds!
Once you reach the green and are inching ever closer to the hole itself, other factors will come into play which you must accommodate for. The surfaces of the green often changes as some holes are't just lying on a straight and flat gradient. Some surfaces are hillier while others could be sailing downhill. In either case, you will have to time your shots more carefully when you are putting. The first few times will be hard but once you practice the game a lot, you will be getting birdies (or even eagles) in no time.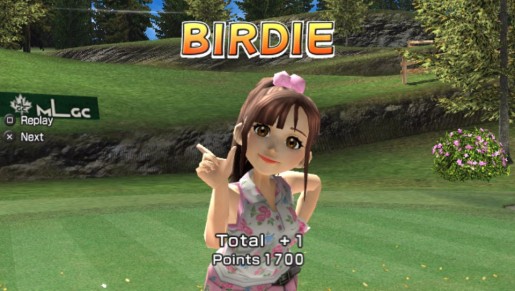 Lengthy Challenge Mode
Everybody's Golf has a challenging yet lengthy "Challenge Mode" which acts as the game's main career mode. As accessible as the game is, I was surprised to notice that the "Challenge Mode" can be quite challenging. Not that this is a bad thing as you wouldn't want the game to be too easy. The main thing that makes this game challenging is the fact that there's no caddie or any mulligans you can set in this game.
In Tiger Wood's PGA Tour 12, you can have a caddie around giving you advice on what shot you should take and where to direct the ball. There's no caddie in Situs Judi Slot Online Gampang Menang 2022 Everybody's Golf so you have to do everything on your own. Mulligans are the fancy golf term meaning "retry". Well, there's no "retries" in Everybody's Golf so if you muck up one hole, this may affect your overall score. I remember getting to the 17th hole with a pretty decent score but the last hole I kept hitting it in the water and then out of bounds. As a result of this, I came tenth and lost the round despite being in the lead before that!
After you have won a certain number of rounds, you will earn stars. The more stars you collect; it will unlock more challenges for you to participate in. Each hole ends with a boss battle where you have to win in order to unlock that new characters and new holes/locations. There's a ton of weird and wacky characters for you to unlock which makes this mode very addictive to play.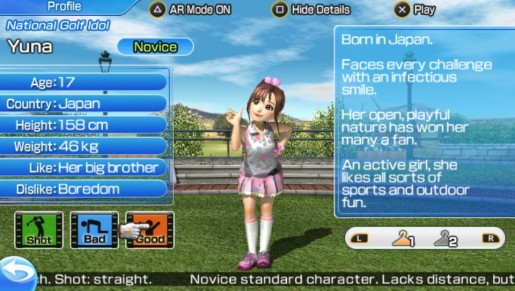 More Content Incoming
I've spent quite a few hours playing this game already but more DLC for the game is coming very soon. There's a ton of characters, costumes, concept art and loads more bonuses you can get to unlock in this game. With that being said, the DLC is going to add even more hours of fun to what is already a lengthy
and enjoyable game.
Not
Sport Simulation Gamers Won't Like This Game
Gamers who are interested in playing more serious sports games may not find Everybody's Golf all that appealing. The Japanese anime-style character models and simplistic approach to the sport may be hard to stomach for some gamers out there Judi Slot Online Jackpot Terbesar Deposit Pulsa. If you're looking to play a more realistic sports game on the PS Vita, you should probably get FIFA Soccer or wait until Rugby Challenge is out. As much as I loved playing the game, it wasn't the type of game my brother liked. He prefers playing Tiger Woods PGA Tour 12 on the PS3 instead.
Verdict
Everybody's Golf is a high quality launch title for the PS Vita. The gameplay is addictive yet easy enough for gamers of any skill level to enjoy it. Not to mention the PS Vita's OLED screen makes the graphics shine brighter than ever before. If you don't mind the light-hearted approach this games presents, than Everybody's Golf is sure to be a game you should own for your PS Vita. The high quality graphics and enjoyable gameplay are sure to please.
[top /]
[Editor's Note: Everybody's Golf (Hot Shots Golf: World Invitational) was reviewed on the PlayStation Vita platform. The game was provided to us by the publisher for review purposes.]
Everybody's Golf Review

,