Kung Fu Rider is a PlayStation Move title, from Japan Studio, where players hurtle down the streets of Toyko. Hop over cars and wipe out the mafia enemies with Kung Fu moves from your desk chair while trying to collect as much money as possible. Utilizing the PlayStation Move players aim to unlock new chairs and complete all the available street courses.
Here are Kung Fu Rider's HOTs and NOTs.
HOTs
Bizarrely Entertaining
Kung Fu Rider has a strong Japanese theme, the reason you are sliding down roads on a desk chair is to escape the Japanese mafia. Neither the main character, Tobio, or his assistant know why they are being chased. The basic goal is to zoom to the escape van on a chair. The concept is certainly distinctive, I'll give it that. Personally I never thought virtually riding down Tokyo's streets on a water cooler could be so entertaining, but it strangely is.
Fun Gameplay
The gameplay stands up as both funny and entertaining. Whether it is spinning kicking a mafia member across the road or humorous crashes can be enjoyed by all types of players: who can't laugh at the classic turning round with a ladder to the face? Then to further the amusement watching the rather shocked Tobio flying from the desk chair.
Levels aren't just all set out about humor, as there are many other solid gameplay elements. Grinding on rails can help you build boost to fly off the next jump. Obstacles could mean crashing out at any moment not to mention the mafia. Later levels seem to have more of the mafia in them, twirling long poles of course aimed right at the player; these are easily avoided enemies but can occasionally catch you off guard. These types of mafia mean there is some variety in enemy to avoid keeping the gameplay fresh for a while.
In fact the hardest obstacle in Kung Fu Rider is the cars. At first the just obstruct but to add to the difficulty they begin to pull off or drive along the roads at times this means the game is slightly challenging but luckily they are done well as surprisingly they are not frustrating.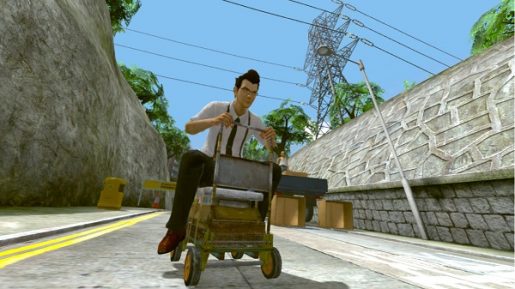 Presentation
Kung Fu Rider has a very bright and colourful graphical presentation. In keeping with the theme it is rather pleasing on the eye. While it won't be winning graphics of the year, I couldn't help myself thinking if this was on the Wii due to the motion controls it wouldn't have looked half as good. There was no texture popping or blurry streets which was unexpected as it is only a PlayStation Move launch title. The theme is really the one of the best bits about the game, as it furthers the Japanese craziness of Kung Fu Rider whether the player is barging through market stalls to drifting around skyscrapers the theme is always constant, something many games slip up on.
Chair Variety
Kung Fu Rider doesn't just let you zoom down the streets of Tokyo on the one chair there are six different chairs to pick from. Each chair can change the levels gameplay, while I can't comment on the different chairs comfy-ness, they all had their own individual appearance and attributes some had better handling but less speed. Fitting in with the theme there was a water cooler as well as a desk chair, some looked ridiculous especially the 'pink Bambi' chair which just made me laugh. Having the chance to use a different  chair not only means players have something to both unlock and look forward to, but also means there is some variation in the gameplay almost attempting to make up for the lack of it in the levels.
NOTs
Controls
There are a few problems with the controls but mostly it's due to getting used to them. Steering is rather loose and takes time to master or at least get to grips with, this could put off casual players from just picking it up to play which is unfortunate.
The second problem is that to jump the player must waggle the Move upwards and to speed up you must wave the controller up and down. While with some time players can strike a balance for the right amount of up, again it takes time.
My biggest grievance with the controls is basically how Kung Fu Rider uses the Move. Sony tries to pride its self on how precise and accurate the Move is but this just uses pre programmed motions e.g. waggle up and down to speed up. This means when playing Kung Fu Rider doesn't feel like you are influencing the game with real world actions defeating the purpose of the motion control device.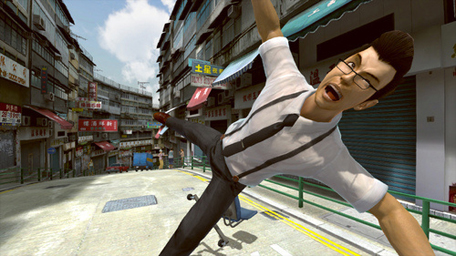 Repetitive
Regrettably once player get over the initial this is so weird and funny feeling the game seems to all blend into one. While the courses that Tobio race down do vary, they don't occasionally offer enough of a difference. Some races actually start off using the same start section and it is only when a third down the road the player makes a different turning changing the course. This alongside multiply course looking very similar, all adds to the samey feeling of repetitiveness. All it would of taken would be slightly more variation in starting locations so hardly any courses started at the same point as another, and the game wouldn't have felt so repetitive.
VERDICT
Kung Fu Rider is a good game with a very unique concept. While at first the game will keep players strangely amused and I'm not sure if this is because of how different or entertaining it is, as time goes on the game starts to be rather repetitive, and will lose its appeal. If anything this is bad timing as it is only after time players have managed to grasp the controls. By no means is this a bad title it will entertain you and make you laugh at crashes and the chairs the player rides on. Don't buy Kung Fu Rider thinking it will keep you entertained like this for a long period of time though.
Kung Fu Rider (PlayStation Move) Review

,