During the Cold War in the 1950s Joseph Stalin started experimenting on the island known as Katorga-12 in hopes of matching the United States' knowledge of atomic energy.  While on the island scientists found an unknown element that they called Element 99.  The element proved to be powerful, but not without being extremely unstable.  Studies continued on the new element until 1955 when the island was destroyed in a mysterious explosion.  The Russian government immediately covered up the existence of Element 99 (also known as E99) and the island.  The year is now 2010.  A surge of energy has emanated from the long forgotten island Katorga-12 and has taken out an American spy satellite.  Naturally, the US decides to send a team to investigate the origin of the blast.  Players are now placed in the boots of Nate Renko.  Upon arrival a second blast knocks their helicopter out of the sky.  From here the story begins to unravel.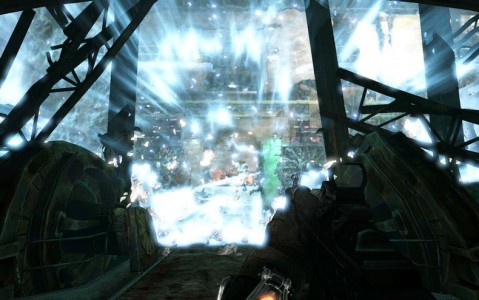 Raven Software is the mind behind this new time traveling FPS.  After it's announcement in 2008 by Activision at E3 the title has faded in and out of the news.  The devs even decided to send their game's release date into the future to avoid competition with Modern Warfare 2.  Now gamers can finally get their hands on Singularity…assuming they are even aware of its existence.
HOTs
Gameplay
Singularity does not boast innovative or genre-defining gameplay, but that is not necessarily a bad thing.  When the game opens up guns are your primary source of defense along with a satisfying knife attack, although it seems a bit weak.  The guns feel solid and are diverse.  Each packs a satisfying punch especially when it comes to the softer human opposition.  Players will quickly become aware of the level of gore present in the game.  Shotguns can blow soldiers in half, a precise sniper shot can remove a leg and a well placed headshot causes a bloody explosion which leaves a mess in the now empty helmet.  Dismemberment can also be achieved on the mutants.  There is one gun, however, that stands above all else and made my time with the game even more enjoyable.  At certain points in the story Renko is able to pick up a weapon called the Seeker.  When shot time slows down and the camera is placed behind the bullet.  The bullet can be controlled via analog sticks to steer it into your enemies.  Shooting a bullet through a doorway, making the bullet make a full circle around the room and resting it in the back of an unsuspecting soldier is a moment that is unforgettable.  While the gun play is entertaining it comes in second next to the time control elements.
Early in the game players will be given access to the Time Manipulation Device, or TMD.  In the beginning its power is limited to reversing or forwarding the age of objects, such as stairways, and affecting enemies.  For example, if the TMD is used against an enemy it can age them significantly resulting in a pile of dust.  As progress is made the TMD's abilities increase in number and raw power.  One of these abilities is being able to shoot a blue orb anywhere you choose.  Anything caught in the radius will be slowed down to a crawl.  Enemies overwhelming you?  Try sticking them in one of these time defying spheres then proceed to run up to each one and put a shotgun blast in their face.  Once the frozen field ends and time resumes all your shots will register and heads will pop.  It is an effective and fun way to sweep and clear rooms.  The TMD has other uses such as being able to pick up and move/throw objects much like Half-Life 2's gravity gun.  All its uses will be given to the player bit by bit throughout the course of the story which ensures that there is always something new to experiment with.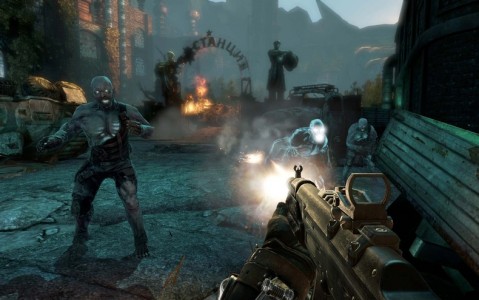 The TMD's uses are not limited to combat.  It can have tactical advantages and is also the main component used to solve the game's puzzles.  Rebuilding broken stairs to access higher levels and then breaking them down behind you is a good way to lose tailing enemies.  When it comes to puzzles you will have to get creative.  This is one of the game's strong points even though after the first few puzzles you will know exactly what to do.  At various points there will be garage-esque doors that are mostly closed.  To make it past them the player must find a nearby box and age it into a broken heap.  After that they must use the TMD to drag it under the door.  Once placed beneath the door they can revert its age back to normal which rebuilds the box.  This shoves the door upwards and allows Renko to crouch under.  This makes the game stand out from other titles currently being released.
Story
The story present here is intriguing.  A modern day soldier heads to an island that does not exist according to the Russian government.  Upon arrival Renko is thrown into a ruined city separated from his partner, Devlin.  After this incident the player is thrown between the time periods 1955 and 2010.  The actions in the past change the present in many ways ranging from slight to drastic.  Although the player does not have any choice in the linear progression during the story it is still interesting to see the outcome of what you altered in 1955.  The power of the TMD that rests on your left wrist provides game with a nice change of pace by allowing the transfer from broken, rundown environments to their original pristine edition in the past.  Even though the game keeps the player on a linear path as the story unfolds the game ends by providing a choice which was very unexpected.  To my knowledge there are three possible endings each with a very fleshed out explanation following.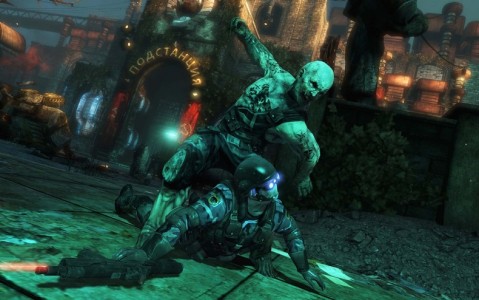 Multiplayer
This mode can hold your attention for a while.  There are two modes available: Extermination and Creatures Vs. Soldiers.  Extermination has players trying to capture specific points and defend them.  Creatures Vs. Soldiers is a class based mode where each team has a few characters to pick from in their respective categories.  Soldiers have the TMD at their disposal.  Once you have chosen your primary weapon and sidearm combo you will be able to pick a perk.  These give you a unique edge and some or offensive choice while others serve defensive options.  For example, you can choose the ability to heal or the ability to teleport.  The creatures have perks as well, but their arsenal is different.  Some can conjure up explosive barrels to lob at their opponents while the small creatures, Ticks, can latch on to enemies and posses them.  It is extremely challenging to play as a Tick successfully, but possessing a soldier and turning him on his teammates is well worth the effort.
NOTs
Originality
The game is entertaining and has something to offer players, but for the most part we have seen it before.  The game is a mashup of Bioshock, Timeshift and Raven Software's own Wolfenstein.  Much like Bioshock you are dropped into a unknown area with a long forgotten civilization that has mutant inhabitants.  The TMD acts much like the Plasmids in its use and the fact that it is on your left hand whereas your right hand is used for firearms.  Also, there are projectors and audio logs scattered about that are heavily reminiscent of Bioshock.  The similarities to Timeshift should be obvious although Singularity is pretty much what Timeshift should have been.  It is not surprise that the shooting feels like the new Wolfenstein given that it is made by the same developer.  Many games nowadays take inspiration from numerous other games, but in a market that is in dire need for new, innovative IPs this game does not define itself too well.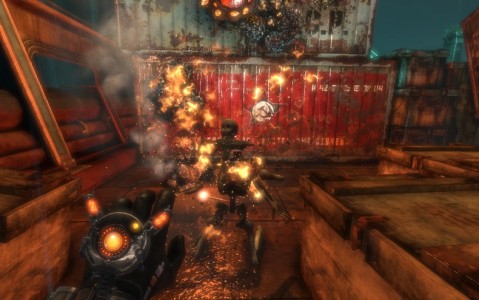 Marketing
As I mentioned in the beginning, players are now able to play the game assuming they have heard of Singularity.  This is due to the fact that there has been minimal, if any at all, marketing for Raven Software's new game.  It is a solid shooter with some great time related elements coupled with a story that is sure to hold your attention.  So why did they decide not to market it more?  Especially since they delayed it to avoid the big names in the market like Call of Duty.  You would think now that competition for the game is minimal they would want to get the name out there.  Unfortunately, it released under the radar and unless you were a hardcore gamer that likes to update on the industry daily, then chances are you were unaware of its release or even existence.
VERDICT
Raven Software has provided us with a solid shooter that does the time control power part right unlike some past games.  Its story jumps back and forth between 1955 and 2010 which keeps the player's attention and it wraps itself up nicely at the end.  It may borrow some ideas from past games, but if the game mechanics were successful then what is wrong with using a proven formula?  It does not take any chances in terms of gameplay, but that is not always a bad thing.  Once the single player experience is over the multiplayer is sure to add to your game time.  If you have the money and are in need of a new FPS, then pick this up as I'm sure it will end up being a sleeper hit of 2010.
[Editor's Note: Singularity was reviewed on the Xbox 360 hardware. The game was provided to us by the publisher for review purposes.]
Singularity Review

,