BioWare's Dragon Age: Origins is an RPG that can be considered as epic since everyone, including myself, loves the game so much. After more than fifty hours of playing Origins and Awakening, a new batch of DLC is upon us. We received a lot of worthless downloadable content for Dragon Age: Origins, but that might change with the release of Leliana's Song on the Xbox 360, PlayStation 3, and PC, as it will offer something that fans have been waiting for a long time.
How is Leliana's Song any different compared to the other downloadable contents out there like Darkspawn Chronicles? Let's take a look on the HOTs and NOTs of the game:
HOT
Background Story for Leliana
Like the title says, Leliana's Song focuses on the back story of Leliana, one of the main characters in Origins. And for the first time ever, there's DLC that offers more than mindless hack and slash battles. Dragon Age: Origins is all about the story, and the Leliana's Song DLC has a wonderful story that fans will love. Players will feel like they're playing a full game, the cut scenes have voice overs, the ability to gain experience, level up, acquire new weapons, and buy items from NPCs in the game. Playing the downloadable content will shed a light on the history on Leliana and how she became part of the chantry. Without spoiling too much of the story, players will get to see betrayal, friendships, hope, and trust in this short DLC.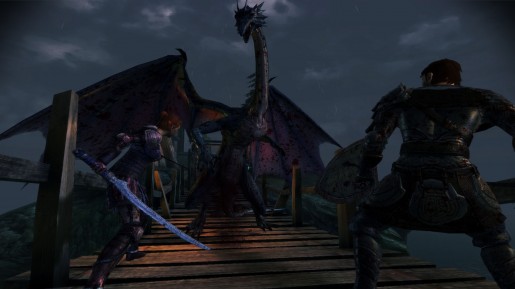 Get a new Battle Armor for Leliana
After the completion of Leliana's Song DLC, an item will be rewarded which can be transferred to both the Origins and Awakening campaign mode. This item is best suited for Leliana, and after seeing what she went through before she joined the chantry, players might want to reconsider actually using her instead of Morrigan.
Decent Length
Leliana's Song will take players into different places in the game. There are actually four places that a player will have to go through. This includes the Arl Eamon's estate, the prison, and the place where the final battle with Raleigh takes place. Expect to finish the campaign story in around 1-2 hours depending on how good you are.
NOT
Sorry, there is nothing disappointing that I can see in this DLC. For me, this is the downloadable content I've been waiting for.
VERDICT
For fans of both Origins and Awakening, Leliana's Song is a must buy for anyone who is curious to find out the history of Leliana. The DLC is somewhat short, but it is satisfying for anyone who wants to spend more time in Dragon Age: Origins. Let's hope we will get more of this kind of downloadable content from Bioware in the future.
Dragon Age: Origins Leliana's Song DLC Review

,