It's been a while since I've seen a Dead to Rights game on any platform. It's actually been almost five years since the last game in the series was released and that was a while back during the PlayStation 2 and original Xbox era. Since then the game has never garnered much critical or commercial acclaim. With Dead to Rights: Retribution on the PlayStation 3 and Xbox 360 now available, can this new game make more of an impact than its predecessor?
Dead to Rights: Retribution is a third person action game that mixes both shooting and hand-to-hand brawling while playing as Jack Slate. In comparison between Retribution and the past titles in the series it has definitely evolved. Volatile Games promised us before that Retribution wpuld have a new approach. Did it work at all? Are the changes noteworthy? Let's take a look at the HOTs and NOTs of Dead to Rights: Retribution:
HOT
Stylish Kills
You will spend most of your time in this game brawling hand-to-hand with multiple enemies endlessly. The way the battle system works in Retribution is similar to the past Dead to Rights game. You beat them up, which in turn, will eventually result in a button prompt for finishing moves. Press it at the right time and you will be able to perform a slow-motion style kill. There are a handful of stylish kills that Jack will be doing and they are brutal as hell. These can range from kicking an enemy's knee caps inward and delivering a final kick to their face or using an assault rifle to knock them up into the air while simultaneously blasting them away with bullets. Whenever you feel like you're empty handed you are free to take the enemies' weapons and turn the tides of battle. When a gun or any other weapon is equipped the game turns into your typical third person shooter involving a cover system . Gamers who have played games such as Gears of War will be familiar with this style of third person shooter action. Maybe you've reached a point where the action has become to hectic or the enemies have become crackshots. In that case you can trigger slow motion as long as the bar associated with the power is somewhat filled up and shoot them at your own pace.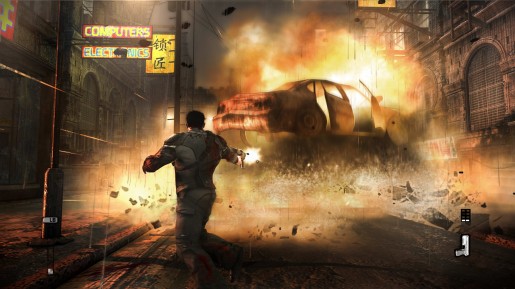 Shadow
Aside from controlling Jack Slate you will be able to control his Husky sidekick named Shadow. Whenever Jack is in the middle of a situation that he can't handle you can send out Shadow to do his dirty work. He is capable of temporarily holding enemies so that you can beat them to death or light them up.  Be quick though since they will Sparta kick your dog away if Shadow doesn't receive any assistance.  Shadow will also silently take out unsuspecting enemies quietly if instructed to do so or bring scattered weapons back to Jack. There are times when the player gets a welcome change of pace and is allowed to control Shadow directly. Shadow will mainly be used to navigate areas stealthily, or in an all out assault manner, to obtain a key to help Jack access the area as well. There is no need for hand-to-hand brawling with the Husky dog; press one button and they're dead. If you haven't seen an aggressive Husky take down an enemy from behind then muffle their screams with its jaw, then you are missing out. There are certain points in the game where stealth skills will be the preferred route. Thanks to the sense skills of Shadow, you are able to see and feel the heart beat of your unsuspecting foes. The sound and color of the enemies' heartbeat indicates whether they can sense your presence or not.  Also, for those of you disappointed with Mr. Fisher's inability to drag bodies in his latest adventure Shadow has you covered there.  This dog's new trick isn't really necessary, but it is entertaining to play around with.
NOT
Graphics are Dated
The graphics present in Dead to Rights: Retribution are very last-gen. The character models and the environments feel like they were made for a PlayStation 2 or the original Xbox 720p resolution. Jack Slate and the other characters look horrible and they just don't live up to today's expectation when it comes to HD visuals. From the buildings and towers you will be exploring it will become apparent how bland the design work is. There are times in the game where you will be see a lot of graphical glitches that slow down the game whenever an abundance of enemies are on screen at once. The execution in killing feels a little weak and very dated as well. We have seen other action games out there with much better graphics, but with Dead to Rights: Retribution being sold amongst other top next-gen titles it may come as a disappointment due to these problems.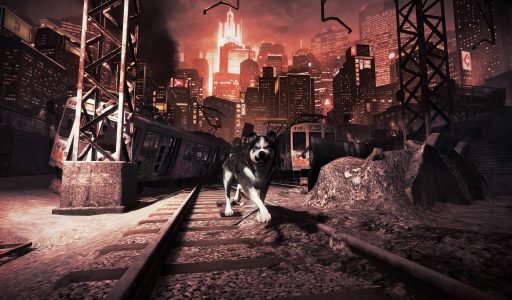 Repetitive Brawling & Horrible AI
Taking down enemies with stylish kills are indeed fun to watch, but after doing it constantly it can get old if you were not drawn in to it from the beginning. The brawling has its moments of intensity where it almost works like you want it to, but it is overshadowed by the near flawless, multi-combat system that Batman: Arkham Asylum boasted. Most of the time I found myself playing this game pressing only two buttons. At some points I almost forgot that there was a block/dodge button since it wasn't really crucial during fights with anyone who wasn't a boss. Even then it was barely a necessity. With the AI being so horrible you can just run and do flying knees into enemies, including armed ones, knocking them to the ground and finish the game without worrying about dying too much. Of course this isn't the case on higher difficulties. Whenever you are in a huge gun some enemies will blindly run towards you and shoot without even thinking about their own safety. This can really kill the challenge most players crave.
Same 'Old Story
The story present in Dead to Rights: Retribution is what we have all seen before in a video game. You are Jack Slate, a grunt Police Officer accompanied by his father's trusty Husky named Shadow. Crimes have spread throughout the city and it's Jack Slate's responsibility to stop the madness while doing an investigation of a Union Group that he's been following along the way in hopes of getting answers regarding his father's abrupt death. The story takes the usual plot twists that we see in most cop/revenge movies. Don't go into this game expecting to experience an award-winning script.
VERDICT
Dead to Rights: Retribution is a mediocre title at best in the action genre. It is sure a pleasure to see Shadow ripping out the jugulars and Jack doing his over-the-top kills, but the overall gameplay may be too simple to gain many followers. Too much brawling with no depth whatsoever is the number one factor that held this game from its true potential. It would be hard for me to recommend this title as purchase at the $59.99 asking price. I suggest that you rent it or wait until it reaches the bargain price in the near future.  It will provide some cheap thrills, but the lack of innovation and risks in developing this game make it fall short of being a welcome addition to the series.
[Editor's Note: Dead to Rights: Retribution was reviewed on a PlayStation 3 platform. The game was supplied to us by the publisher.]
Dead to Rights: Retribution Review

,