You have just hijacked a passing helicopter and have stumbled upon a colonel marked for execution.  You decrease altitude and a quick press of the stunt jump leaves your guy hanging from the bottom of the helicopter as it hovers.  A few shots from the SMG soften up the forces and you decided its time to dive down and deliver the final blows.  You dive down towards the earth and pull your parachute right before hitting the ground as the spiraling helicopter blows up behind you.  After landing you quickly dispatch the colonel with a headshot from your trusty shotgun.  The authorities and nearby guards are quickly surrounding your position to take you down.  You spot a propane tank in the corner of the courtyard where the firefight took place.  A quick shot leaves the tank hissing and you grapple it right before it takes off.  Attached to the canister you are rocketing away from swarming forces.  To really show off you detach from the tank seconds before it explodes and dive away towards a different location.  Moments like this come up often as the game allows you to improvise and let your creativity take center stage as you play out your own scenarios.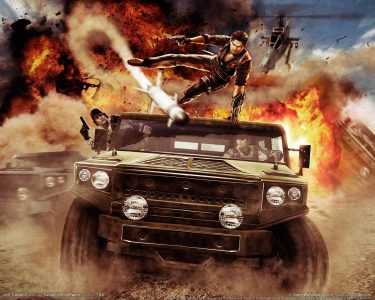 Just Cause 2 puts players in control of Rico Rodriguez, who works for the US agency called "The Agency", once again.  He is sent to the island of Panau to locate his old mentor, Tom Sheldon, who is suspected to have gone rogue.  Shortly after arriving Rico realizes he must team up with the three rival rebel forces scattered around the island in order to obtain more information on Sheldon and the current dictator Baby Panay.  As he tries to prove himself a worthy warrior for these factions he gains more knowledge surrounding the truth and locations of his targets.
Here are the HOTs and NOTs:
HOT
Gameplay
The game opens up with Rico jumping out of a helicopter and diving through sky at high speeds as he tries to reach the dead, limp body of a soldier that is carrying the PDA he needs.  This should give you small taste of what to expect.  Just Cause 2 takes the same addictive and free-style gameplay mechanics the first game included, but improves on them and rids it of most of the old annoyances.  This is a world where you are given numerous tools to create your own type of action whether you are in a mission or not.  For the most part, the player is only limited by their imagination.  You are given a grappling hook, a parachute, a small arsenal and a range of vehicles spanning land, air and water.  The grappling hook has been given a boost from the previous installment.  In the first Just Cause its uses were limited as it could only attach to vehicles that were within its reach.  This time around it can connect to ANY surface within the grappling hook's range.  So you could catch a ride on a passing car or you could just grapple a building and while your character is being pulled forward release the parachute.  This becomes an excellent way to traverse the land, but the hook's abilities are not solely used for traveling the vast island.  By holding down the specified button you are able to tether two objects together.  If a soldier is really getting on your nerves, then string him to a propane tank and shoot it for a human fireworks show.  Maybe a pursuing car will not get off your tail.  In that case, jump on top of your car and attach the enemy vehicle to the ground to watch it pivot and flip off the road.  The tools you are given are basic, but what you do with them is extraordinary.  One must really consider every possibility to get the most out of this game because the unscripted events that occur are going to be the most memorable ones for players.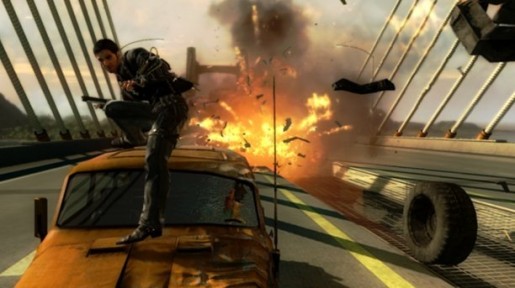 What should you do with all this freedom?  Cause chaos of course!  Chaos works like a point system which builds up are you destroy gas tanks, kill enemies, complete missions and just wreak havoc overall.  As your Chaos increases new missions will be unlocked from the three available factions or the CIA will present you with new tasks.  There are three factions: Roaches, Reapers and Razor.  These rival gangs will give you random tasks that can include returning an important person to them or the more common stronghold takeover.  These result in the influence of that faction increasing and more missions becoming available from each.  As you earn Chaos through these faction missions or random destruction it will accumulate towards unlocking the CIA missions which progress the main story.  It is not what these missions will consist of that will excite you.  It will be coming up with a new way to complete a task that is similar to one you have done before.  Once again, the idea is reinforced that this game is as insane and epic as you choose to make it.  For PS3 owners, these unbelievable moments can be recorded onto the hard drive or uploaded straight to YouTube so you can share your insane stunts with the world.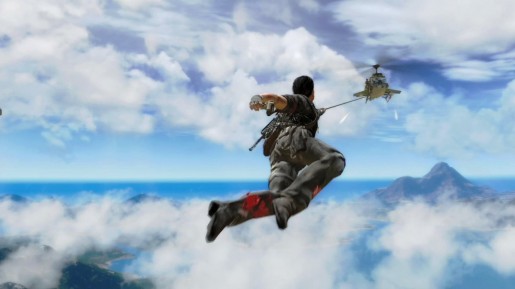 To create an immense amount of devastation one needs to have the right tools.  At any given point during the game you can access the Black Market through a mobile supplier who will drop off supplies or act as a taxi much like the role Ewan Devlin played in Mercenaries 2.  Weapons, vehicles and transportation await you, but each has its own restrictions.  Weapons can only be purchased if you have caused enough Chaos to unlock the weapon and if you have sufficient funds.  Also, weapons' stats can be upgraded from one star to five stars after using the necessary amount of Weapon Parts which can be found laying about the island.  Vehicles are unlocked like weapons and can also be upgraded to five stars so that they are more durable, faster, etc.  The transportation system is only of the three options that is free.  The only requirement here is that you have discovered the location you wish to go to.  That may sound like a chore since there are over three hundred locations awaiting exploration, but with the natural progression of the game and missions you will find many places on your map ready to fast travel to.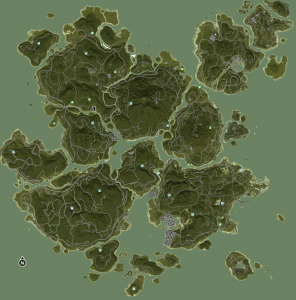 Scale
As mentioned above there are over three hundred unique places to check out and blow up.  Unless you make it your goal to visit every locale chances are you will notice a few undiscovered settlements on your map after sinking a good deal of time into the game.  The island spans four hundred square miles which is on par with the first game.  The island is so huge in fact that depending on your mode of transportation some people have stated that it has taken them fifteen to twenty minutes to reach the other side of the map.  That is truly an accomplishment.
It is not only the sheer size of the island that is impressive.  Unlike the first game, players are presented with different types of terrain and weather depending on where the are.  There are heavily populated urban areas, snowy mountaintops, empty deserts and luscious jungles.  One minute you are diving downwards alongside a steep, snow-covered mountain and the next you are walking amongst crowds and traffic in the inner city.  This keeps the experience fresh since you are not forced to see the same area copy and pasted throughout Panau.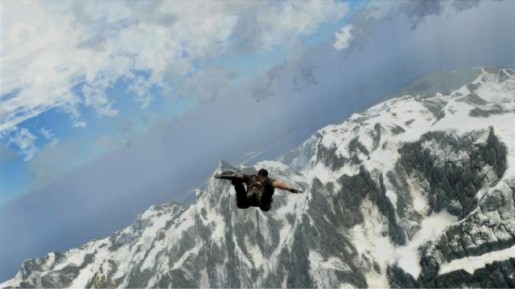 NOT
Missions
As I said, the missions can be taken in whatever manner you like.  This does not hide the fact that most missions are repetitive and you will most likely forget which faction you are working for since they all hand out similar tasks for Rico to complete.  It tends to revolve around reaching a location, killing people, hijacking a vehicle with a person inside and then returning to the faction.  This can really slow the game down since most people will partake in these missions to increase Chaos, thus getting closer to unlocking the CIA missions.  This can be counteracted to a certain extent if you can figure out how to take each mission with a different approach.  Experimenting is the only thing that will help detract the player's attention from the flawed mission structure.
Voice Acting
The voices for these characters can be near unbearable at times.  In the beginning, it was hard to listen to Tom Sheldon or Bolo Santosi.  I believe Bolo Santosi, the head of the Reapers, is the biggest offender here.  The characters are given poor accents, but you can still tell what they were going for.  So for some this may be humorous while others will find listening to these people dreadful.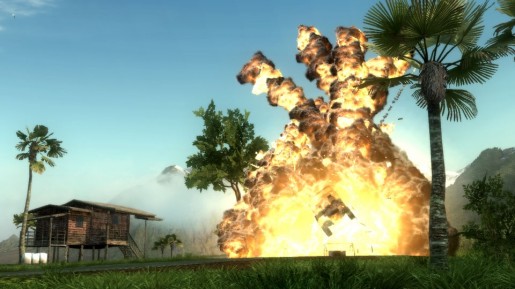 Story
The story in Just Cause 2 is pretty weak and you should not expect much till you near the final moments of the game.  This is a game about exploration, experimentation and explosions though.  So the story is going to take a back seat to all the action the player will produce.  Most likely players are getting this game for the numerous possibilities at their fingertips rather than paying sixty dollars in hopes of story that will blow their mind.  If that is you, then you will be quite happy with your purchase.  Buy this game for the fun factor not the story.
VERDICT
Just Cause 2 improves in every way from the first game.  An enhanced grappling hook with limitless uses brings players on of the greatest video game mechanics to date.  Not to mention that there are four hundred square miles to use all of Rico's tools of destruction in which will inevitably lead to several "I can't believe that just happened!"  moments.  This game will constantly unveil new possibilities as the player frees their mind into creating absurd scenarios and testing them out in Panau.  The story is lacking and the voice acting can be atrocious, but the focus is not supposed to be there for the most part.  If you can forgive the game's repetitive mission structure and predictable story, then there is a game waiting with an unknown amount of options for the player to discover.
[Editor's Note: Just Cause 2 was reviewed on a PlayStation 3 platform. The game was provided to us by the publisher]
Just Cause 2 Review

,