Distribution of 2D fighting game Blazblue: Calamity Trigger finally hits Australasia.
Select stores have begun to stock Limited Edition copies of the High Definition 2D fighting game that was released months ago in the rest of the world. This Limited Edition comes with the game as well as a special Blazblue labeled joystick for the PS3 version. The Xbox 360 version ships with 2 new face-plates for the 360 controller. The game has yet to be distributed widely in New Zealand. I saw only one Xbox 360 version of the game at JB Hi Fi while one PS3 version was stocked at EB Games.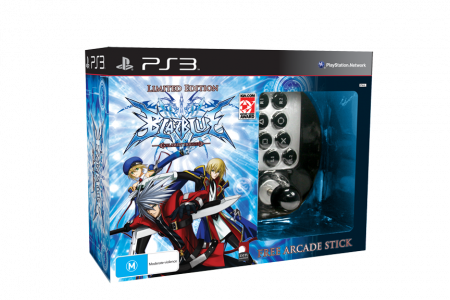 If you do live in Australia or New Zealand and manage to secure a copy, you're very lucky. The joystick bundle is very rare but is totally worth it. I managed to find a bundle for only $NZD 119.99. This is a bargain as one game usually costs this much. By the way playing online is also lag-free no matter who in the world you're playing with.
No word yet if the PSP version will see a local distribution. The sequel is due out later this year although this is for Japan and the USA at the moment.