This generation has been less than impressive with its RPG offerings. Tales of Vesperia was passable, Star Ocean 4 was lame, and Infinite Undiscovery was downright unplayable. Sure we had Disgaea 3 and Valkyria Chronicles, and even Lost Odyssey was good, but all of those games are a bit old now and it's been quite some time since we've had another great RPG.
Well all that has changed as what could be the best RPG of this generation has released, Demons Soul on the PS3. From Software is best known for it's popular Armored Core series, so it was pretty surprising to see them release a PS3 exclusive dungeon crawler. But how well does this game fare? Does it live up to its infamous difficulty? Or does it fall short of offering everything the hardcore RPG gamer wants?
Let's take a look at the HOTs and NOTs of Demons Soul.
HOTs
Great Presentation
The presentation here is just phenomenal. Every environment and creature is presented in amazing detail. The creatures look stunning, each one with it's unique style and look, giving it a personality all of its own. The locations are equally detailed, and the atmosphere does a perfect job of drawing the player in and invoking a true feeling of loneliness while exploring a dark cave. The dark and empty feels of the dungeons make them feel more realistic, and bring the player totally into this world.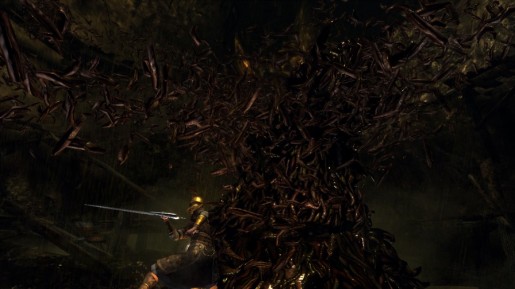 Gameplay
The gameplay is easily the best feature of Demons Soul. The game is every bit as hard as it's hyped up to be, but it's not so hard that players will feel overwhelmed. The game is challenging, but every time you defeat a boss it will be that much sweeter. The core gameplay is something all on it's own, a bit of Zelda, a bit of Diablo and even a bit of God of War. Despite being set in a more fantastic setting, the game stresses realism. The ability to swing a one handed sword with two hands for extra power is pretty cool and not something often seen in an RPG.
Online gameplay
The online gameplay is pretty unique. The game feels like an MMO, so online play is a natural fit. You can team up with a friend for some co-op, but the really cool online play comes in the ghosting. Players can record themselves online playing through any of the games various dungeons, and leave hints as they go along. Then someone else can play the same dungeon online, and see other players' ghosts and hints left throughout the level. It's a nice take on co-op gameplay and gives Demons Soul a feel all of its own. Don't forget that the game has PvP where you can battle the living character while you are in phantom mode to reclaim your body back. Sounds harsh eh?
Nice customization and Western style gameplay
This game feels a lot like an MMO. Players can customize their avatars and use collected souls to forge new weapons. All the character customization is done using sliders, so no two avatars look alike. From face, to hair color, to gender, players can make their avatars totally unique. It really helps bring you more into the game when you can truly play as yourself, and not a randomly generated character.
Difficult
This game is infamous for its incredibly hard difficulty, and I can tell you that it's no exaggeration. This game is VERY difficult. You will die, and you will die quite a bit. This game however is all about creating your own play style and strategy, and as you progress through the game it will become easier. Just don't expect to rush in swords a swingin' and last long. Patience and smart gameplay is very pleasantly rewarded here.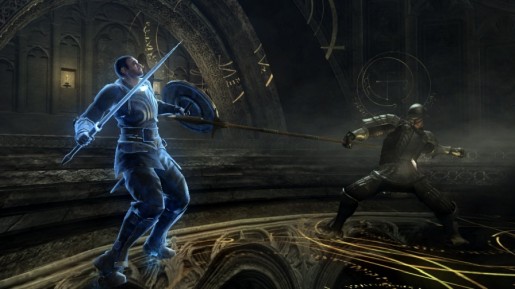 NOTs
Weak Story
For all its strength as an RPG, Demons Soul unfortunately falls short when it comes to the plot. The game has a very loose story, one of you the hero out to rid the world of demons.
VERDICT
I have to say, Demons Soul took me by surprise. I honestly wasn't sure what to expect, especially after hearing about how difficult it is. Yes, the game is hard, but that doesn't take away from it in the slightest. The difficulty isn't overwhelming, nor is it due to balance issues or poor design. Demons Soul is a great game for any RPG fan and is sure to fill that void for a great action RPG. In depth customization, awesome battle system and dungeon crawling, and beautifully rendered environments coupled with some great online gameplay certainly help Demons Soul standout amongst the flood of games this fall.
Demon's Soul Review

,