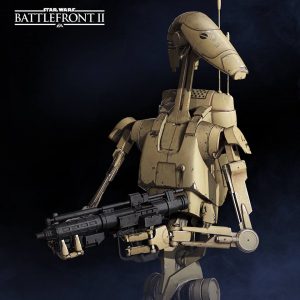 EA has released lots of renders taking a closer look at the many trooper types that you can play as in Star Wars Battlefront 2. There is more variety than what was featured in the game that came out two years ago.
The renders show Battle Droids, Super Battle Droids, Clone Troopers, Stormtroopers as well as some Rebel soldiers. As you can tell, this game includes playable characters from all the Star Wars movies released to date.
Star Wars Battlefront 2 releases on PC, PS4 and Xbox One on November 17th, 2017. It includes a single player campaign and loads more content than what we got last time around.
You can check out the gallery posted below. Click the images in order to enlarge each one. Which trooper type if your favorite in the game?