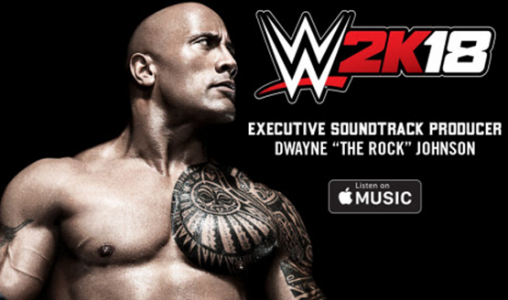 Even though Dwayne 'The Rock' Johnson is a big movie star now, he has not forgotten his wrestling roots. This is because he helped select the songs on the WWE 2K18 soundtrack.
Johnson made sure to include songs from many different genres for the soundtrack. These are songs that he likes to listen to while he is out training. You can check out the WWE 2K18 song list below.
Blues Brothers – "Soul Man"
Boston – "Smokin'"
Bruno Mars – "Runaway Baby"
Disturbed – "Down With The Sickness"
Eazy-E – "Boyz-N-The-Hood"
George Thorogood & The Destroyers – "One Bourbon, One Scotch, One Beer"
Joe Walsh – "Rocky Mountain Way"
Kanye West – "Black Skinhead"
Kid Rock – "You Never Met a White Boy Quite Like Me"
¡MAYDAY! (feat. Tech N9ne) – "Last One Standing"
Tech N9ne (feat. Krizz Kaliko, Serj Tankian) – "Straight Out The Gate"
The game is out for the PS4 and Xbox One this October 17th. A Nintendo Switch version is also going to come out later in the year too.