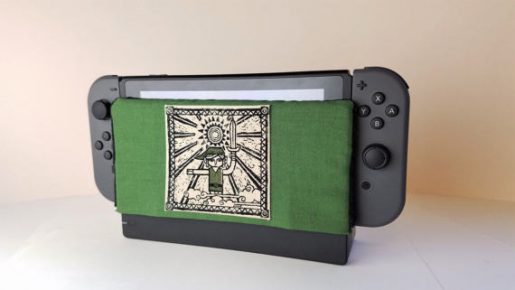 People that own the Nintendo Switch know that the dock for the system sometimes causes unnecessary scratches. Well someone has provided a solution to this problem.
As seen on Etsy.com, a crafty user is selling lots of cool Nintendo Switch dock covers with many  designs for them. The designs include Mario and Zelda logos among other things.
Here's a short description from the seller: "Handmade cover to protect your Nintendo Switch screen when entering and leaving your dock! Lined with microfiber fleece on the inside to keep your screen scratch-free and shining. No adhesives used. Measured to fit snug on the dock, but easily removed. Washable though I wouldn't machine-wash".
The seller is from the United States, although they ship worldwide. It's worth taking a look at their stuff if you own a Switch. A screen protector also works, but this cover makes your dock look cooler.