Hatsune Miku: Project Mirai DX Sees Summer-Long Delay, New Physical Content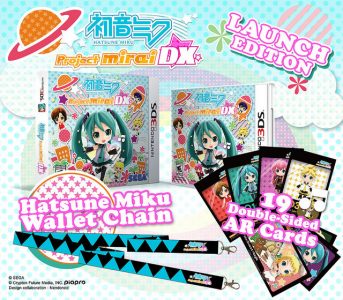 If you were looking forward to playing the latest Vocaloid rhythm title later this month, unfortunately we have some bad news for you. Hatsune Miku: Project Mirai DX for the Nintendo 3DS will no longer arrive during May. To make up for the delay, Sega will be releasing a special edition with some extra physical content for fans.
The updated Launch Edition for Hatsune Miku: Project Mirai DX will include a wallet chain modeled after Miku's signature belt as well as 19 double-sided AR cards for use in game to unlock additional dance moves and costumes. Miku's latest rhythm game will feature 48 full length musical numbers as well as extra features such as Mirai Theater or song creation in My Tune.
Project Mirai DX will now launch in North America on September 8th at a price of $39.99USD/$49.99CAD