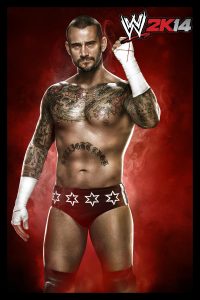 Every wrestling fan was shocked earlier this month when CM Punk walked out of the WWE. With 2K Sports now announcing WWE 2K15 due out later this year, is there a chance the popular star can be added to the game?
Let's assume all of this is legit mainly because there are others out there that still think this is a "work". It's hard to believe it's a work now with WWE pretty much editing out of videos and giving people refunds for shows he's been advertised in. Not to mention they've been confiscating CM Punk signs at arenas too. It's possible WWE may even want him to be removed from WWE 2K15, if they're at angry at him.
When it comes to WWE games in the past, the roster is usually finalized around the day after WrestleMania of that year. If CM Punk chooses to stay away from the WWE and not compete at WrestleMania XXX, there is a good chance he may not make it into this WWE 2K15 this year.
Another sign that he might miss out on being in WWE 2K15 is that his current WWE contract expires in July. Even if CM Punk chose to stay until July, he will be a free agent and will have cut all ties with the WWE altogether. Usually only contracted WWE wrestlers appear in WWE video games. They rarely include stars that have not signed a deal with either WWE and/or 2K Sports. If CM Punk is still "pissed off" with the WWE, I'm sure he might not even want to be included in WWE 2K15 either.
With his contract expiring in July, CM Punk might refuse WWE to use his likeness and names on any future products. The only way WWE could use his likeness in future video games if if he agrees to sign a contract like Hulk Hogan which will allow the company to still market him with action figures, video games etc. Again, this is an obstacle right now simply because CM Punk isn't really talking with anyone other than his close friends and family. Even if 2K Sports approaches him, he might not be willing to do or say anything.
I'm not sure what type of contract CM Punk signed back in 2011, but it was for three years. There is slight hope that he could still make it into WWE 2K15 since Stone Cold Steve Austin left the company in a similar fashion back in 2002. Even though Austin left in May of that year, he was still included in WWE Smackdown! Shut Your Mouth.
Another positive thing that he might be included in WWE 2K15 is if Vince McMahon himself could convince CM Punk to come back. McMahon is a fan of CM Punk and realizes his pushing power. CM Punk (even though he's left) currently has the 2nd best selling merchandise of any WWE wrestler. He's behind only John Cena. McMahon I'm sure would want CM Punk to be in WWE 2K15 simply because he knows how popular he is.
IF CM Punk is not in WWE 2K15, fans can still create him and add him in. As of right now, there's nothing else fans can do right now but see what happens. Even WWE itself doesn't know what to do since CM Punk hasn't said anything to anyone since he walked out of the company…