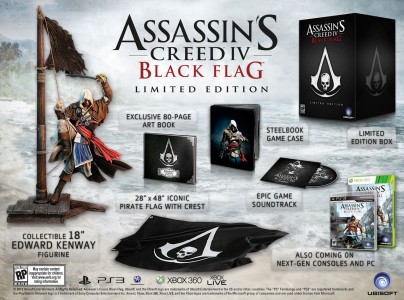 Ahoy Pirates! Ubisoft just announced today that Assassin's Creed 4 will be getting a Limited Edition when it launches this Fall in North America. Well, that's not really surprising at all since Assassin's Creed 3 had one last year.
If you consider yourself a true pirate, you will be getting the Limited Edition when it launches on October 29, 2013 across all current-generation consoles. For $129.99, you will be able to get the following loot and treasures:
• Copy of Assassin's Creed IV Black Flag
• A stunning 18" Assassin statue featuring Captain Edward Kenway
• An embroidered 28" x 48" iconic Assassin's Creed pirate flag with crest
• Exclusive 80-page art book
• SteelBook game case
• Full game soundtrack
Unfortunately, the only platforms that will be getting this uber limited edition bundle for Assassin's Creed 4 Black Flag are PS3 and Xbox 360. Sorry folks, don't expect a Limited Edition SKU for the PS4 or Xbox One.
It is 1715. Pirates rule the Caribbean and have established a lawless pirate republic. Among these outlaws is a fearsome young captain named Edward Kenway. His exploits earn the respect of pirate legends like Blackbeard, but draw him into an ancient war that may destroy everything the pirates have built.
Check back with us near the release date for our coverage of the game. For now, go to your nearest retail store and pre-order the Limited Edition now. Better yet, check out the newly released trailer below.