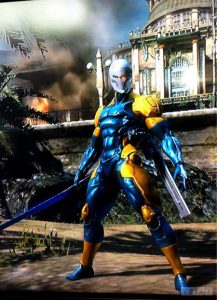 Konami announced today that the ultimate edition of Metal Gear Rising: Revengeance is now available on PSN.
Gamers who still have not bought Metal Gear Rising: Revengeance can pick up the Ultimate Edition digitally on the PSN as all DLCs released will be included. The following DLCs will be included: Cyborg Ninja Armor Skin, Metal Gear Solid 4 Raiden Skin, Commando Armor Skin, White Armor Skin, Inferno Armor Skin, VR Missions, and the side stories; Jetstream and Blade Wolf.
The bundle gives fans hours of exhilarating gameplay that introduces a host of unique new challenges. The included DLC packs expand the player's METAL GEAR RISING: REVENGEANCE experience as they delve into various characters such as Samuel Rodrigues and LQ-84i, aka Blade Wolf, each including unique abilities, characteristics, storylines and origins.
You can get the bundle at a low price of $74.99 on the PlayStation Network for the PS3.