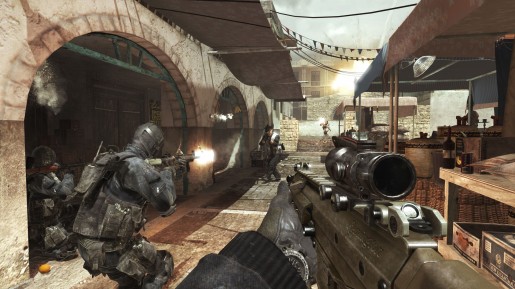 Activision Blizzard has announced there will be yet another Call of Duty game to be released in late 2013.
No other details have been posted as of yet, but a Call of Duty game of some kind will presumably be making its way onto store shelves in mid-November. This should be not be a surprise to anyone since Activision has been releasing Call of Duty titles every year for quite some time now.
Activision Blizzard CEO Bobby Kotick revealed the company's 2013 business plan:
"As we look to 2013, we will continue to invest in our established franchises, as well as several new properties."
It's unknown what these "new properties" will be, but he could be referring to the next generation consoles that are due out later this year.
The company is sure to stick with is usual plan of "established franchises". A new Skylanders game is also out later this year as the series has made over $1 billion of sales worldwide. Diablo III sold over 12 million copies since it launched last May. We can also be sure that the next Call of Duty game will sell very well too.
Reportedly, the next game in the popular FPS franchise will be Modern Warfare 4. We'll have to wait for an official word from Activision hopefully soon.
Source: IGN