WWE '13 Superstar Attributes Revealed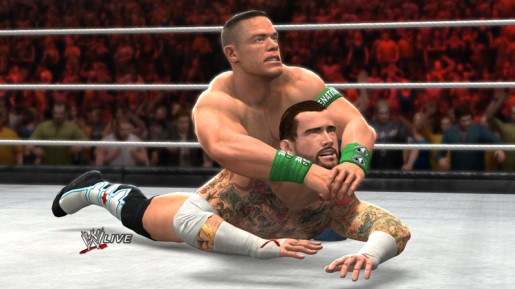 THQ has revealed the overall attributes for every Superstar and Diva that will appear in WWE '13. Find out which wrestlers managed to come out on top.
It's interesting to note that John Cena is the highest ranked wrestler in WWE '13 with a total score of 96. He is closely followed by "Attitude Era" Undertaker, Stone Cold Steve Austin and CM Punk with a score of 95.
Check out all of the scores below:
AJ Lee – 77
Alberto Del Rio – 89
Alicia Fox – 76
Animal – 87
Antonio Cesaro – 84
Big Boss Man – 86
Big Show – 92
Beth Phoenix – 78
Billy Gunn – 87
Booker T – 88
Bradshaw – 87
Bret "The Hit Man" Hart – 94
Brian Pillman – 87
Brie Bella – 76
British Bulldog – 88
Brock Lesnar – 92
Brodus Clay – 87
Cactus Jack – 90
Chainsaw Charlie – 86
Chris Jericho – 90
"Attitude Era" Chris Jericho – 89
Christian – 88
"Attitude Era" Christian – 87
CM Punk – 95
Cody Rhodes – 88
Damien Sandow – 84
Daniel Bryan – 91
David Otunga – 84
DDP – 89
Dolph Ziggler – 89
Drew McIntyre – 84
Dude Love – 90
Eddie Guerrero – 92
"Attitude Era" Edge – 88
Edge – 91
Epico – 81
Eve – 77
Faarooq – 87
Gangrel – 85
Godfather – 86
Goldust – 85
Grand Master Sexay – 84
The Great Khali – 84
Hawk – 87
Heath Slater – 82
Hunico – 81
Hunter Hearst Helmsley – 88
Jack Swagger – 87
JBL – 89
Jey Uso – 81
Jimmy Uso – 81
Jinder Mahal – 83
John Cena – 96
John Cena '04 – 91
John Laurinaitis – 75
Justin Gabriel – 83
Kane – 89
"Attitude Era" Kane – 91
Kelly Kelly – 77
Ken Shamrock – 88
Kevin Nash – 89
Kharma – 79
Kofi Kingston – 87
Layla – 78
Lita – 78
"Attitude Era" Lita – 79
Mankind – 91
Mark Henry – 89
"Attitude Era" Mark Henry – 87
Mike Tyson – 89
The Miz – 88
Mr. McMahon – 81
Natalya – 77
Nikki Bella – 76
Paul Wight – 92
Primo – 81
Randy Orton – 92
Rey Mysterio – 90
Rikishi – 87
Road Dogg – 87
The Rock – 93
"Attitude Era" The Rock – 94
R-Truth – 87
Ryback – 87
Santino Marella – 86
Scotty Too Hotty – 83
Shane McMahon – 82
Shawn Michaels – 95
Sheamus – 90
Sin Cara – 87
Stephanie McMahon – 74
Stone Cold Steve Austin – 95
Ted DiBiase – 82
Tensai – 87
Triple H – 93
"Attitude Era" Triple H – 92
Trish Stratus – 80
Undertaker – 93
"Attitude Era" Undertaker – 95
Vader – 87
Val Venis – 85
Wade Barrett – 87
X-Pac – 87
Yoshi Tatsu – 81
Zack Ryder – 85