Playstation Plus Offerings for October Partially Revealed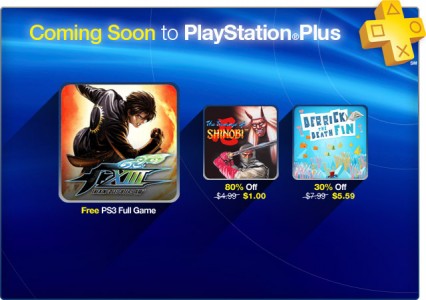 For the month of October, Playstation Plus subscribers will be receiving a number of discounts, and one full game for free that has been revealed so far.
On the end of the discounts, subscribers will see a discount similar to Alex Kidd last week, with The Revenge of the Shinobi for $1.00 ($4.99 normal). Following that will be a release day discount on Derrick the Deathfin, at $5.59 ($7.99 normal). As for the free games this month, so far what has been revealed is but one game. So far subscribers will receive King of Fighters XIII for free. The team on the Playstation Blog has assured users that will be receiving another game this month, but it will not be revealed until next week.